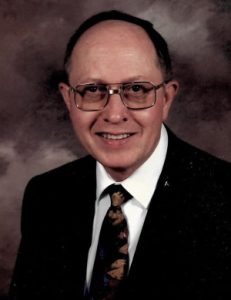 Frank L. Bracy, Jr., age 88, of Three Rivers, passed away Thursday, December 2, 2021 at Bronson Methodist Hospital in Kalamazoo.
Born  March 30, 1933, he was the only child of Pearl (Lehman) and Frank Bracy of Charlotte, MI. During WWII, he spent many hours working in his father's gasoline station, where he overhauled carburetors, automotive generators, and starters professionally, even before graduating from high school. In addition, he was Drum Major of the Charlotte High School Marching Band for two years, and Stage Manager all four years, graduating in 1951 with the Bausch & Lomb Science Award.
He earned a Bachelor of Science degree in Chemical Engineering from the University of Michigan in 1956, married (Audrey) Ann Schaefer of Charlotte, and moved to Hartford, CT to work for Plax Corp., the Plastics Packaging Division of Monsanto, first as a development engineer, and later in Technical Service.
In 1963, he returned to the midwest as a Customer Service engineer attached to Monsanto's Chicago district sales office, and after about two years, moved to Cincinnati, where he worked exclusively with the Packaging Division's largest customer, P&G, on the development of new plastic bottle designs. While working in Cincinnati, he acquired a competition driver's license through the Sports Car Club of America, and spent three years racing formula cars as a hobby at various tracks in Ohio, Indiana, Michigan, and Wisconsin.
Late in 1970, he returned to Charlotte to manage the family business, which had become a distributorship for Gulf Oil. Frank was both a Rotarian, and a member of the Charlotte Masonic Lodge.
Ann and Frank separated in 1971 and divorced in 1975. In 1978, Frank married elementary teacher, Joan (Jansen) of Leslie, MI, daughter of Margaret (Cassell) and Jack Broker of Three Rivers.
After the family business was sold in 1981, he went back to school to acquire a Master's degree in Education from Michigan State University, with additional credit from Ferris State University, for certification to teach in Chemistry, Physics, Mathematics, and Computer Science. He secured a teaching position in Engadine, MI, a rural school system in the UP, where he set up the school's first computer program, wrote a manual on programming, and for a time, taught on the UP's first Interactive Television system.
He and Joan lived 300 miles apart nine months of the year for 15 years, until Joan retired in 1997, and went up north to live with Frank. He retired in 1998, and the couple moved back to Leslie, where they lived until 2001, when they purchased a home in the Tamarac area of Three Rivers, Joan's home town.
Over the years, Frank enjoyed cars, both old and new, photography, computers, and traveling. He lived in 4 different states, and traveled through 45, plus Canada, Mexico, and the Caribbean islands.
He wrote two books: Mr. Bracy's Apple Primer—a textbook for programming Apple 2e computers, and Choices: The View from the Center—a book of political opinion.
Surviving him are: his wife, Joan, step-son Kenneth Jansen of Olathe, KS, granddaughter, Kate Jansen, cousins, nieces, nephews, and friends.
Visitation will be held Wednesday, December 8, 2021 from 10:00 to 11:00 a.m. at Hohner Funeral Home, 1004 Arnold St., Three Rivers. A funeral service will follow at 11:00 a.m. at the funeral home with Pastor James Smith officiating. He will be laid to rest at West Carmel Cemetery.