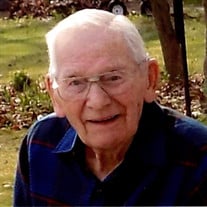 Gerald Melville, age 98, of Marcellus, passed away peacefully at home with his family on Tuesday, December 28, 2021.
He was born October 20, 1923, in South Bend to Edmund Marshall Melville and Mabel Johnson Melville.
He graduated from Three Rivers High School and served in the US Army from 1943 to 1946 and is a WWII Veteran.
His first marriage to Pauline Lampen ended in divorce.
On September 11, 1971, he was united in marriage to Eleanor Eddy. They were blessed with 50 years together. He loved their home and life at Pine Lake, and his wish to be there when he passed was made possible.
He loved to be home with his wife & family and being outdoors watching nature. He was a member of Corey Church of the Nazarene.
Gerald worked his first job at Perry's Gas & Electric in Constantine, the rest of his life he worked at various Ford Dealership's managing parts and service and retired from Ridge Auto Parts in Dowagiac.
Gerald was preceded in death by his parents, brothers Edwin and Kenneth Melville, sister Mary Scott and son-in-law Harold (Butch) Seymour.
He is survived by his beloved wife, Eleanor Melville, son Richard (Carol) Melville, daughter Carole Seymour, step-son David (Marilyn) Eddy; step-daughter Janet Eddy. Also grandchildren; Staci Guajardo, Ryan Seymour, Chris Dose, Gregg Melville, Cathy Melville, Meredith Carver and Melissa Burson, and 11 great grandchildren.
The family will receive friends from 11:00am to 12:00pm, Monday January 3, 2022, at the Mater-Ralston Funeral Home, 52780 M-40 North Marcellus. Funeral services will be held following the visitation with Pastor Gary Carr of Corey Church the Nazarene officiating. Memorials may be directed to the charity of their choice. Online condolences may be left at www.materralstonfuneralhome.com