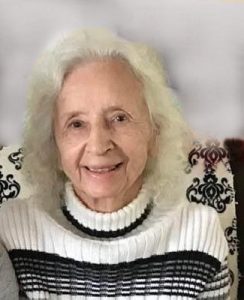 Virginia L. "Ginny" Rogers, age 90, of Sturgis, passed away Monday afternoon, December 13, 2021 at Edgewood Health and Rehabilitation in Three Rivers.
She was born December 30, 1930 in Sturgis, daughter of the late Louis B. and Tillie (Plucinski) Murray.
Ginny resided in Three Rivers since 2018. Most of her life was lived in Sturgis where she was a graduate of Sturgis High School with the class or 1949.
On March 10, 1951 she married Walter K. Rogers at the Naval Air Station in Pensacola, Florida. He preceded her in death January 31, 2005.
Ginny retired in 1990 from the Kirsch Company in Sturgis following 42 years of dedicated employment in the credit department. Following her retirement she enjoyed working part time at Vogt's Floral in Sturgis for several years.
Ginny was an active member of the Holy Angels Catholic Church in Sturgis where she was a member of the Council of Catholic Women, the Altar Society, and Holy Angels Seniors and volunteered her time helping with funeral luncheons. Ginny was an avid walker and loved time with her family especially family dinners.
She is survived by three daughters: Vicky (Dale) Klopfenstein of Arcadia, Florida, Deb (Fred) Lepley of Sturgis and Michelle "Micki" (Steve) Fischer of Three Rivers; one son: Rick (Brandi) Rogers of Placentia, California; nine grandchildren: Chad (Jeanine) Klopfenstein, Cory (Angie) Patterson, Wendy McVicker, Jennifer Juday, Justin Fischer, Andrew (Kascia) Fischer, Casey Lepley, Logan Rogers and Austin Rogers; 11 great grandchildren: Ethan, Kelli, Adam, Luke Klopfenstein, Mason and Devin McVicker, Collin Juday and Rowan Juday, Trenton and Chase Fischer and Kyle Patterson; One sister: Nancy Worthington of Sturgis several nieces and nephews.
She was preceded in death by her parents; husband; great grandchild: Evan Juday and sister: Arlene VonOlnhausen.
The family will receive friends from 5:00 to 8:00 P.M. Thursday at the Hackman Chapel of Hackman Family Funeral Homes, 114 S. Nottawa St. in Sturgis where the most Holy Rosary of the Blessed Virgin Mary will be prayed at 7:30 P.M. Thursday. A Mass of Christian Burial will be held at 10:30 A.M. Friday at the Holy Angels Catholic Church in Sturgis. The Rev. Father Andrew Raczkowski celebrant. In accordance with Ginny's wishes cremation will follow the Mass. Private burial of the remains will take place at Oak Lawn Cemetery in Sturgis at a later date.
The family suggests those wishing to make a memorial donation in Mrs. Rogers' memory consider the Holy Angels Catholic Church, 402 S. Nottawa St., Sturgis, MI 49091 or the Hospital Hospitality House, 828 S. Burdick St., Kalamazoo, MI 49001.
Relatives and friends are encouraged to share memories and condolences at www.hackmanfamilyfuneralhomes.com.