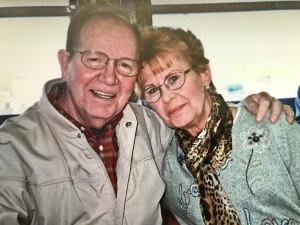 Glenda Dale Rodenbo, age 81, of Mendon, died Sunday, Dec. 5, 2021 at Three Rivers Health following a three-week illness. She was born in Fulton, Kentucky on Oct. 9, 1940 the youngest of four born to Julius and Mabel (Clahn) Page. Following her graduation from Chadsey High School, Glenda attended Beauty School in Detroit. She was married to Basil Rodenbo on Nov. 13, 1959 at Temple Baptist Church in Detroit. They retired to Mendon in 1996.
Glenda was a member of the Mendon Women's Club and the Mendon Book Club. She enjoyed reading and her weekly thrift-shopping trips with her daughter. For several years she was a chorus member with the Mendon Kiwanis Showboat. She especially loved family gatherings and celebrations.
Glenda is survived by her two children; daughter Karen (David) Arevalo of Mendon, and son Scott Rodenbo also from Mendon. 2 step children; Gloria Rodenbo and Irene Simms both of Detroit. 7 grandchildren; Matthew (Michelle) Conroy, Amanda (Corey) Ertman, Jessica (Connor) Stickney, Brandon Rodenbo, Allison Arevalo, Isiah Arevalo, and Blaec Arevalo. 5 great-grandchildren; Addilynn, Farrah, Tavien, Brycen, and Ryan; and several nieces and nephews. She was preceded in death by her parents Julius and Mabel Page, her brother Bob, and her two sisters, Carol and Betty.
In keeping with her wishes, cremation has been conducted. A graveside interment will take place at a later date in Mendon Cemetery. Memories and condolences may be shared at www.eickhofffuneralhome.com