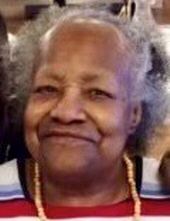 Grace Griffin, age 78, of Sturgis, passed away Thursday, Dec. 2, 2021 at Thurston Woods Village. She was born Sept. 14, 1943 in Arkansas where she lived her early childhood in Popular Grove. While growing up in Arkansas, Grace learned how to cook at an early age and enjoyed baking with her family. Thoughout life Grace has been known for her exotic meals that she liked to prepare.
Later in life Grace had a daughter in Chicago, before moving back to Arkansas to have a son with Lapoleon Sample Sr. In the late 60's Grace married Gatt Webb and took her passion for cooking with her to Sturgis, where they had a son. Grace and Gatt opened G & G Pit Barbeque in the early 1970's and it was one of the only barbeque restaurants in Sturgis.
After her children were all raised Grace moved back to Arkansas where she married Robert Griffin and lived several years before moving to Tuscaloosa, Alabama. In 2012 Grace moved back to Sturgis to be close to her family and loved ones.
Grace was loved by all and was said to have a smile that could light up a room. Grace always loved living in Sturgis and worked several years at Kirsch Co. before she retired.
Grace leaves behind a loving family, sons: Lapoleon Sample Jr. and Derrick (Michelle) Webb all of Sturgis. Grandchidren: Nicholas Sample, Justin Johnson, Dylan Webb, Rachel Webb, and Madison Webb all of Sturgis. Great-grandchildren: Bryson and Ayden Webb and River and Phoenix Sample. Nieces and Nephews: Theresa, Wanda, Lee Jr., Rosaland, William, and Brandon all of Chicago. Grace also leaves behind several nurses and aides at Thurston Woods Village where she lived her remaining years who became family as well.
Grace was preceded in death by her parents, a sister: Marjorie Davis, a daughter: Greta (Webb) Johnson, and husbands: Lapoleon Sample Sr., Gatt Webb, and Robert Griffin.
According to her wishes cremation has taken place. The family will receive friends and relatives from 11:00 AM to 1:00 P.M., Saturday, December 18, 2021 at the Rosenberg Chapel of Hackman Family Funeral Homes, 807 E. Chicago Rd., Sturgis, MI 49091. A Memorial Service will immediately follow the visitation at 1:00 P.M., Saturday, Dec. 18, 2021 at the funeral home.
Memorial donations may be directed to St. Jude Children's Research Hospital, envelopes are available at the funeral home.
Her obituary is also at www.hackmanfamilyfuneralhomes.com where personal messages of support may be left for the family.