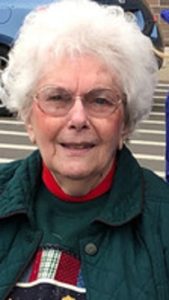 Grace Elouise Kasdorf, age 89, of Sturgis, went home to be with her Lord and Saviour on Tuesday, Dec. 14, 2021.
She was born Oct. 3, 1932, the youngest daughter of Harrie and Flossie (Crapo) Prestidge. Grace graduated from Sturgis High School with the class of 1950.
In 1953, she married Howard Jay Kasdorf who preceded her in death in 2012. Also preceding her besides her parents and husband were four sisters: Louella, Harriet, Beatrice, and Shirley.
She is survived by two daughters: Sherry (Bruce) Grant of Sturgis and JoEllen (Tom) Adams of Lander, Wyoming, two sons: Jeff (Linda) Kasdorf of DeWitt, MI and Howard L. Kasdorf of Sturgis. 13 grandchildren: Shay Kandis, Ben Veasy, Shavonna Anders, LaTasha Watson, Sarah Vanderlugt, Mathew Kasdorf, Kaylee Fisher, Gabe Adams, Mike Adams, Kyle Adams, Kira Kasdorf, Kaden Kasdorf, and Mya Kasdorf; 11 great-grandchildren; and many much loved nieces and nephews.
As a young girl, Grace had a love for horses. She was often seen throughout the county riding her beloved horses. While a senior at S.H.S. she was involved in most extracurricular activities that were offered. Her teachers did not drive, so on several occasions Grace would get permission from the Superintendent, Paul Winger, and borrow the driver's ed. car. She was on the yearbook committee and with her teachers accompanying her would take photos to Ft. Wayne to be included in the yearbook. As a member of the Debate and Forensics team, Grace drove to several different schools, again with her teacher in the passenger seat, to participate in debates. It was during this time that Mr. Winger asked Grace if she planned to go to college, at which Grace replied, "No, my Father will not sign the papers." He wanted her to join two of her sisters at the beauty shop. Winger had an offer for Grace and asked her to come by his office to discuss it. A dental clinic was opening in a small space off the bleachers in the gymnasium of the high school and he thought she could get a job there as an assistant to Dr. John Mancini, Sr. After graduation, she did work at the clinic and eventually earned enough money to go to Western Michigan University. Other jobs during Grace's lifetime included Sturgis Credit Bureau, dental assistant for Dr. Jeff Millet, office worker for Dr. John Robertson and her favorite, Secretary at Congress Street School.
Grace and Howard were co-owners of the Car Wash in Centreville, which he and his son, Howard, built. They owned several parcels of land in Centreville. After retirement, Grace and Howard spent many winters in Naples, FL until health issues forced them to remain in Michigan in 2012.
A Memorial Graveside Service celebrating the life of Grace E. Kasdorf will be held on Monday, Dec. 27, 2021 at 1:00 P.M. at Oak Lawn Cemetery. Memorial donations may be directed to Camp Fort Hill, envelopes are available at the Hackman Family Funeral Homes of Sturgis who have been entrusted with the arrangements.
Her obituary is also at www.hackmanfamilyfuneralhomes.com where personal messages of support may be left for the family.