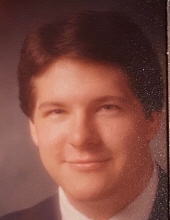 James "Jim" Ortmann, age 57, of Sturgis, passed away Wednesday morning, December 1, 2021 at Fairview Nursing and Rehab Community in Centreville after a sudden illness.
Jim was born November 23, 1964 in Sturgis. He is the son of Norby and Rita (Strzalkowski) Ortmann.
Jim loved working with the public and served in various positions at Meijer, Coldwater NCG Cinema, Kroger, Sturgis Bank & Trust and Cedar Point.
Jim treasured his time spent with family and friends and shared his love music as he was referred to as "MusicManJim". His favorite artists were the Carpenters, Barry Manilow, and Barbra Streisand and attended many concerts and was a "Fanilow". As a hobby he would create CD's of various artists from his vast music collection to share with those he loved. His favorite holiday was Christmas and especially Christmas In July so family and friends near and far could gather and celebrate the holiday in the warmth of summer.
He will be greatly missed by surviving friends and family including brother Len (Beth) Ortmann, aunt Cathy Strzalkowski of Ferndale; uncle Jerry (Nancy) Ortman of Coldwater; along with several nieces, nephews, and cousins. He greatly appreciated and cherished Kim Ware, Lonnie Falkenstein, MJ Jacobs, Pete Trautmann, Jamie Sidwell, and Kevin Strzalkowski.
He is preceded in death by his parents, brother Thomas (infant); sisters Judy Schroeder and Gerri Comden; and many aunts, uncles whom he cared for very much and is reunited with in heaven.
The family will receive friends from 2 to 4pm Sunday, December 5th, at the Rosenberg Chapel of Hackman Family Funeral Homes, 807 E Chicago Rd Sturgis, MI 49091. 269-651 3284.
The family suggests those wishing to make a memorial donation in Jim's name please donate to Hackman's Family Funeral Homes to assist with expenses.
The obituary is also at www.hackmanfamilyfuneralhomes.com where we encourage relatives and friends to share memories and leave condolences for family.