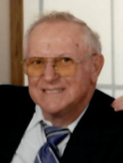 John C Miller, age 87, of Centreville, passed away peacefully Wednesday, December 22, 2021 at his home of 63 years. He was born February 8, 1934 to Clemence and Anna (Miller) Miller of Centreville.
John served in the United States Air Force from 1954 – 1957. On June 28, 1958, he married the love of his life, Lovina Borkholder. They enjoyed traveling together, visiting all the states but Delaware. John retired from Ross Labs in 1990 after 38 years of service. He enjoyed farming, gardening, and spending time with family. John was a member of the Three Rivers American Legion.
He is survived by his four sons and their spouses, Gary (Susan) Miller of Vicksburg, Larry (Caroline) Miller of Centreville, Terry (Stacey) Miller of Centreville and Barry (Tammy) Miller of Constantine, his 13 grandchildren, Kraig (Michaela) Miller, Stacey (Nathaniel) King, Meranda (Ashley) Miller, Samantha Miller, Melinda (Janeiro) Linscomb, Jacob, Emmaline, Savannah, Zachary, Brady, Robert, Ryan, and Trevor Miller, 11 great grandchildren, and special friend, Emma Borkholder-Moore.
He was preceded in death by his parents, wife of 54 years, 5 brothers and 3 sisters.
Relatives and friends will be received Monday Dec. 27, 2021 from 4 to 7 pm at Fish Lake Bible Church, 25108 Banker St, Sturgis. Funeral services will follow on Tuesday at 11:00 am at the church. Pastor Glen Russell will officiate. Burial will be at Oak Grove Cemetery in Centreville. In lieu of flowers, memorial contributions may be made to Fellowship Bible Church. To sign John's guest book and leave a message for the family, visit www.eleyfuneralhomes.com.