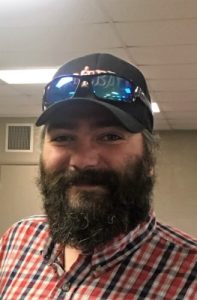 Matthew Aaron Krick, age 38, of Sturgis, passed away Friday afternoon, December 10, 2021 at his home.
He was born March 3, 1983 in Sturgis, son of Richard and Laura (Kelly) Krick.
Matt resided in Sturgis until age 10 when the family moved to Goodrich, Michigan returning to Sturgis in 2014.
He had been employed by Village Guitar in Ortonville for several years and had also worked in construction and window cleaning. In 2015 he took on the full time responsibility of caring for his parents.
Matt attended Radiant Life Church in Sturgis.
He enjoyed fishing, loved hockey and had a true passion for music.
He is survived by his parents; one sister: Machelle (Ken) Stockwell of Bradenton, Florida; one brother: Michael (JoAnn) Krick of Sturgis; nieces and nephews: Bob (Amanda) Grove, James Grove, Amanda (Rob) Boyer, Ashley (Jeremy) Cencer and Andrew Krick; great nieces and nephews: Tom, Joe, Josh, Phil, Makayla, Elizabeth, Amilia, Austin and expecting another and several aunts, uncles and cousins.
The family will receive friends from 4:00 to 8:00 P.M. Friday at the Rosenberg Chapel of Hackman Family Funeral Homes, 807 E. Chicago Rd. in Sturgis. A funeral service celebrating the life of Matthew Krick will begin at 6:00 P.M. Friday. The Rev. Ryan Bibb of Radiant Life Church will officiate. In accordance with family wishes cremation will follow the services. Burial of the remains will take place at the Pretty Prairie Cemetery in rural Howe, Indiana at a later date.
The family suggests in honoring Matt's love of music memorial donations be directed to the Radiant Life Church Sound System Fund, 907 N. Nottawa St., Sturgis, MI 49091.
Relatives and friends are encouraged to share memories and condolences at www.hackmanfamilyfuneralhomes.com.