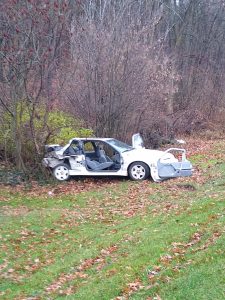 Three people were injured in a two-vehicle collision last week in Cass County's Newberg Township.
Sheriff Richard Behnke said deputies were called around 12:40 p.m. Friday to an area of M-60, west of Corey Lake Road.
Investigators said a pickup driven by 75-year-old Charles Buck of Vandalia failed to yield the right-of-way and turned into the path of a vehicle driven by 85-year-old Clare Trout of Jones. Trout's vehicle then struck a Ford Explorer, driven by Khari Clements, 43, of Constantine.
Trout's vehicle subsequently left the roadway and struck a grove of small trees. Authorities said Trout was extricated from his vehicle and transported to Elkhart General Hospital.
Neither Buck nor Clements was injured.