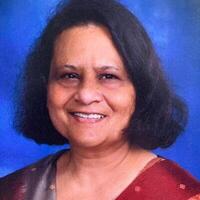 Parveena Gayen, age 70, of Three Rivers, died Thursday, Nov. 25, 2021 from injuries in an auto accident on November 23rd in St. Joseph County. She was born in Delhi, India on Dec. 16, 1950 the daughter of Hidayat and Sosan (Mall) Masih. She was married to Manoj Gayen on Oct. 21, 1975 in Hapur, India. They came to the United States in 1997 and resided in Clinton Township until moving to Three Rivers in 2018.
Parveena was a homemaker who also worked as a Daycare Teacher, and as an assistant at a rehabilitation center. Most recently she was employed as an Administrative Assistant for the Seventh Day Adventist Church. She enjoyed knitting, gardening, and trying new recipes. She liked to sing, and loved time with her extended family.
Parveen is survived by her husband, Manoj; one daughter, Cheryl Gayen of Three Rivers; five sisters, Elvina Hans, Helen Bairagee, Roxy Harrison, Velma Simon, and Rita Massey; and by many nieces and nephews, including Tina and Shikha. She was preceded in death by her parents; and by a brother, Maxwell Simon.
Funeral services for Parveena Gayen will begin at 1:00 pm Thursday, Dec. 2, 2021 at the Eickhoff funeral Home in Mendon with Dr. Sumith Dass of the Seventh Day Adventist Church officiating. Cremation will follow services. Memories and condolences may be shared at www.eickhofffuneralhome.com and where a recording of the service will be available later in the day.