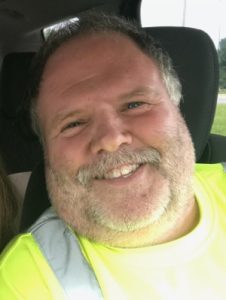 Robert Elias Payne, age 56, passed away on Sunday, December 12, 2021 at Borgess Hospital in Kalamazoo.
He was born in Ludington, MI on October 18, 1965 to Frank and Clara (Nicolls) Payne.
Following a house fire, the Payne family moved to Wichita, KS and eventually Emporia, KS where Rob graduated from high school and vocational school. After graduation Rob moved to Leavenworth, then back to Emporia.
In 1988, Rob moved to Sturgis to be with his family, which has been his number one focus after his relationship with Jesus Christ. He was a member of Riverside Church.
He enjoyed the years he spent and relationships he made while employed at Iowa Beef, Michigan Livestock, LTi Printing, Walmart, Advance Auto Parts and Robert Weed Corp.
In 1992, Rob met the love of his life, Lynn Kern. They were joined in marriage August 12, 2000 in Centreville. They chose to build their life in Three Rivers, where he resided the rest of his life.
The couple had three children who were Rob's pride and joy. He spent many days at ball diamonds, football fields and basketball courts supporting and coaching his children and their friends.
Rob was an avid sports enthusiast, with the Detroit Lions, Red Wings, Tigers and the Michigan Wolverines being his favorites behind the teams of which his children were members.
He had a special love of the outdoors, bonfires, camping, hunting, fishing, barbecuing and visiting Lake Michigan and returning to his beginnings in Ludington.
Remaining to cherish Rob's memory are his wife, Lynn (Three Rivers); parents, Frank and Clara (Colon); children, Austyn and Henrik (Three Rivers); sisters, Wendy (Rick) Langdon (Sherwood) and Dawn Pelfrey (Colon); nieces, Kassie Payne (Sturgis), Shyanne (Jared) Allen (Colon), Alexis Shenefield (Coldwater), Carly Payne (Colon), Faith Fulks (Sherwood); nephews, Levi Brown (Sturgis), Kristofer (Kate) Henderson (Constantine) and Timothy "TJ" Pelfrey (Coldwater); several great nieces, nephews, and cousins.
He was preceded in death by his grandparents, daughter Mateja Payne, sister Starr Payne and nephew Jesse Payne.
Visitation will be held Monday, December 20, 2021 from 6:00 to 8:00 p.m. at Hohner Funeral Home, 1004 Arnold St., Three Rivers. A funeral service will be held Tuesday, December 21, 2021 at 2:00 p.m. at the funeral home with Pastor Paul Booko officiating. The service will be livestreamed with a link available here 15 minutes prior to the service.
Donations in Rob's memory may be directed to the family of Rob Payne c/o Lynn. Envelopes are available at the Hohner Funeral Home.