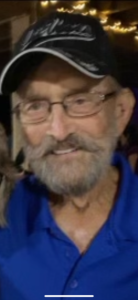 Rolly J. Lamphere, age 77, of Centreville, passed away at his home on Monday, December 20, 2021. He was born in Oak Park, IL on December 30, 1943 the son of Rolly A. and Ella (Brabec) Lamphere. He was a graduate of Mendon High School in 1962. After high school, Rolly joined the National Guard. When his service was completed, he came back to Mendon to work at the Haas Corporation, where he would meet his future wife. On January 30, 1971 he was married to Judith Ann Velie.  Rolly went on to work at Sturgis Hospital, Coachman RV in Middleberry, and then St. Joseph County Road Commission where he would work for 42 years. In 1975, he and Judy moved to Centreville where they built a home.
Rolly is survived by his wife of almost 51 years, Judy Lamphere. 5 children; Wendy Miller of Colon, Wade Lamphere of Kalamazoo, Kristy Fielden of Union City, and Stacey Lamphere of Three Rivers. 5 grandchildren; Brady Strayer, Justin Miller, Lindsey Miller, Zander Fielden, and Kiera Fielden. 2 nephews; Joshua (Beth) Velie and their children Emma and Alex Thulin, and Lucas Velie. Rolly was preceded in death by his parents Rolly A. and Ella Lamphere.
The family will receive friends on Thursday, December 23, 2021 at the Eickhoff Funeral Home in Mendon, from 2pm until 4pm. Following visitation, a funeral service will take place at the funeral home at 4pm. Cremation will be conducted following the service. It is suggested that memorial contributions be made to the Mendon Fire Department. Condolences and memories may be shared to the family on eickhofffuneralhome.com.