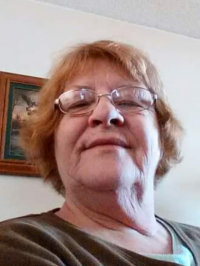 Sharon Louise Ruggles, age 74, of Three Rivers, passed away peacefully at her home on Thursday, Dec. 2, 2021 following a brief illness. She was born in Burr Oak, the daughter of the late Cylas and Jean (Bower) Butcher.
Sharon has been a lifelong resident of Three Rivers. Sharon owned and operated her own cleaning business for many years working for many homeowners, the Three Rivers Post Office, and several other commercial businesses. She was a member of the Three Rivers Eagles #2303 and the Three Rivers Elks Lodge #1248. She loved watching her grandchildren's sporting activities and her beloved pets. She enjoyed crocheting and working puzzles and watching the Lifetime Channel.
She was preceded in death by her parents, one brother, Arthur Butcher, and her husband, Warren "Bill" Ruggles.
She leaves to cherish her loving memory, two sons, Michael (Sherry) Hostetler, of Three Rivers, and Robert Hostetler, of Sturgis; one step-daughter, Missy (Dan) Kennedy, of Vicksburg; four beloved grandchildren, Bobby and Jewel Hostetler, Spencer Kennedy, and Ashlee (Matt) Gorham; two adored great-grandchildren, Owen and Ryder Gorham.
A celebration of life will be held Saturday, January 15, 2022 from 12:00 to 3:00 p.m. at the Eagles, 715 E. Hoffman St., Three Rivers.
Arrangements by Hohner Funeral Home.