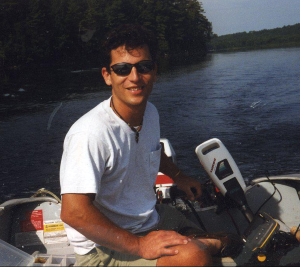 Troy A. Jankowski, age 51, of Constantine, passed away on Sunday, December 19, 2021 at his home. He was born on April 30, 1970 in Mishawaka, a son of Coy and Linda (Nobles) Jankowski.
Troy received his GED in 1993 in Florida. He attended several colleges focusing on the arts, most recently Salem State College in Salem, MA, where he studied 3-D Art and Business Administration. Troy had worked in many fields throughout his life where he learned a variety of skills. Many of his friends and co-workers considered him a jack-of-many trades. He did electrical work, construction, carpentry, landscaping, and learning the ins and outs of running a business. Troy enjoyed mountain biking, surfing, gardening, cooking and fishing. He also enjoyed spending time with his mom outdoors, especially being around a bonfire, listening to the sounds of nature. She played an integral part in his life from learning to appreciate the little things, to furthering his education. She was always his biggest fan. His main passion was anything related to the arts, sculpting, glass blowing and painting. His influences in the arts were his grandfather, who is a world renowned painter, and his father who was a 30 year owner of a graphic design firm.
Troy is survived by his father, Coy Jankowski, of Granger, IN, and several aunts, uncles and cousins. He was preceded in death by his mother, Linda Haase.
According to his wishes, cremation has taken place and a celebration of life will take place at a later date. Memorial donations may be made to Eddie or Michele Grudzinski, or direct to Eley Funeral Homes to assist the family with expenses. Please visit www.eleyfuneralhomes.com to sign Troy's guestbook and leave a message for his family.