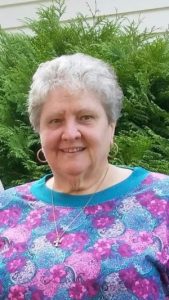 Verna Schlabach, age 71, of Centreville, died on Monday, November 29, 2021 at Memorial Hospital in South Bend. She was born December 23, 1949 in Sturgis, a daughter of Henry and Emma (Borkholder) Borkholder. Verna graduated from Sturgis High School in 1968. On December 24, 1971 she married Raymond D Schlabach at Locust Grove Mennonite Church.
Verna was a lifelong homemaker and caretaker of her family, foster children, and many in her care. She was a member of New Beginnings Community Church, Sturgis, where she was song leader and Sunday school teacher for many years. She enjoyed scrap booking, crocheting, and making Christmas ornaments and crafts for family and friends.
Surviving are her husband Raymond Schlabach, Centreville, sons David (Christy) Schlabach, Crossville, TN, Dean (Corinne) Schlabach, Three Rivers, Lee Schlabach, Jones, daughter Shannon Coker, Kalamazoo, grandchildren Nicole, Natalie, Andrea, Shauna, Josh and Aidan Schlabach, Kylie Benton and Kaitlin Coker, great grandchldren Kaysen, Jaxton and baby Julius on the way, nine brothers and sisters and many nieces and nephews.
She was preceded in death by her parents, two sisters and one brother.
Relatives and friends will be received Thursday from 3 to 7 pm and Friday from 2 to 4 pm at New Beginnings Community Church, 63022 M-66, Sturgis. Religious services will be held 4 pm Friday at the church with Pastor Randy Evans officiating. Memorial contributions may be directed to New Beginnings Community Church. To sign Verna's guest book and leave a message for the family visit www.eleyfuneralhomes.com.