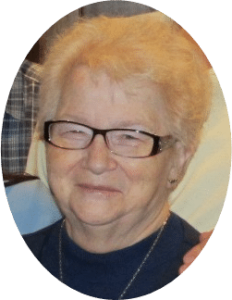 Willa Mae Yoder, age 89, of Gobles, passed away Tuesday, December 7, 2021 at her home.
She was born November 12, 1932 in LaGrange County, Indiana, the daughter of Daniel and Inez (Helvie) Parker.
Willa graduated from Springfield Township High School in Mongo, Indiana with the Class of 1951. On February 1, 1952 she married Ernest Yoder in Valentine, Indiana.
An accountant by trade, she worked at Credit Bureau, Paramount Furniture in Sturgis and Sturgis Newport. In 1998, she retired after 30 years of dedicated employment at Sturgis Foundry.
Willa enjoyed gardening, traveling to Germany and Switzerland with her family, and genealogy – especially participating with the St. Joseph County Genealogical Society. She loved her family very much.
Remaining to cherish her memory are three sons, Ernest (Wendy) Yoder of Royal Oak, Alan (Donna) Yoder of Sturgis and Dale (Denise) Yoder of Berrien Springs; two daughters, Sharon Yoder of Gobles and Karen Barclay of Mattawan; nine grandchildren and 16 great-grandchildren.
She was preceded in death by her husband, parents, four sisters and three brothers.
Visitation will be held Saturday, December 11, 2021 beginning at 11:00 a.m. at Hohner Funeral Home, 1004 Arnold St., Three Rivers. Burial will follow at noon at Nottawa Cemetery.
Donations in Willa's memory may be directed to Centrica Care Navigators (formerly Hospice of Southwest Michigan). Envelopes are available at the funeral home.