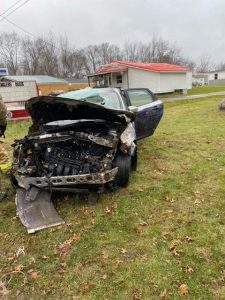 Cass County sheriff's deputies responded over the weekend to a single-vehicle crash in Newberg Township.
Sheriff Richard Behnke said deputies were called at 2:45 p.m. Saturday to an area on M-60, west of Corey Lake Road.
Behnke said a vehicle driven by Annamae Davis, 24, of Kalamazoo, went off the roadway. Davis told authorities she fell asleep while driving. The vehicle traveled down the shoulder, struck a culvert and became airborne before landing right side up.
Davis and her 3-month-old son were transported to Three Rivers Health. Davis was wearing a seat belt and her son was in a child car seat.
Investigators said neither alcohol nor narcotics appear to have been factors in the incident.