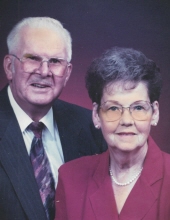 Yvonne Anne "Bonnie" Foster Bowersox, age 92, of Sturgis, left this earth to join her husband, son, daughter and son-in-law and grandson at the feet of her Lord and Savior Jesus Christ Wednesday evening, December 1, 2021 at Parkview LaGrange Hospital in LaGrange.
She was born February 21, 1929 in Sturgis, daughter of the late Elmer and Martha (Barnell) Foster.
Bonnie was a lifelong Sturgis resident. On March 4, 1945 she married Earl L. Bowersox in Centreville. He preceded in death May 16, 2002.
She married George Schreiber July 21, 2014.
She lived the final year of her life with her daughter at Klinger Lake.
Her mother died when Bonnie was just 11 years old. She immediately became responsible for keeping the house for her father and three siblings which never allowed her to have a childhood.
For many years she worked as a clerk at the Buy low Grocery Store and Paramount Furniture Company, both in Sturgis.
She graduated with the second class of the newly formed Glen Oaks Community College in 1969 earning her degree as a Licensed Practical Nurse. She soon accepted a nursing position at Sturgis Hospital where she retired following 20 years of dedicated employment. Her final 12 years with the hospital were spent in the O.R.
Bonnie sacrificed furthering her education to care for her grandchildren: Lisa, Cindy and Bobbie following the passing of their mother, Linda.
Bonnie was a member of the Sturgis Wesleyan Church, now known as the Radiant Life Church and also a member of the Craft Club and the Airport Extension Group. She enjoyed sewing, crafts, gardening, knitting and had an extensive collection of Precious Moments.
She leaves behind two sons: Robert (LoEsa) Bowersox of Sturgis and Michael (Rosalie) Bowersox of Three Rivers; one daughter: Martha "Marty" (J. Lynn) Reed of White Pigeon; daughter-in-law: Roseann (John) Davis of Sturgis; 15 grandchildren; numerous great grandchildren and several nieces and nephews.
She was preceded in death by her parents, step-mother: Antoinette; siblings: Alfred Foster, Harold Foster and Julia Knudsen; son: Earl "Bud" L. Bowersox, Jr.; daughter and her husband: Marie and Richard Smart, their son: Shawn Smart and daughter-in-law: Linda Bowersox.
The family will receive friends from 5:00 to 8:00 P.M. Friday at the Rosenberg Chapel of Hackman Family Funeral Homes, 807 E. Chicago Rd. in Sturgis. Funeral services celebrating the life of Bonnie Bowersox will be held at 11:00 A.M. Saturday at the Fish Lake Bible Church in Sturgis. The Rev. Mike Owen of the First Baptist Church of Newberg will officiate.
The family suggests those wishing to make a memorial donation in Mrs. Bowersox's memory consider the Fish Lake Bible Church, 25108 Banker Street Road, Sturgis, MI 49091 or the Corey Church of the Nazarene, 10056 Water St, Three Rivers, MI 49093 or the First Baptist Church of Newberg, 13021 Born St, Jones, MI 49061.
Relatives and friends are encouraged to share memories and leave condolences at www.hackmanfamilyfuneralhomes.com.