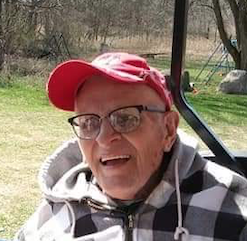 Berton E. Snook, age 80, of Sherman Township, died on Tuesday, January 18, 2022 at his home. He was born April 2, 1941 in Sherman Township, a son of Berton V. and Alberta (Balk) Snook. Berton graduated from Centreville High School in 1960 and received advanced education from Glen Oaks and at Chicago Technical School in Tool & Die. On October 14, 1961 he married Judy K Davenport at St. Paul's Lutheran Church in Centreville.
Berton had a vision of life and a clear picture of how he intended to live it. He would graduate high school, marry his high school sweetheart, and continue life in farming, his passion, his calling in life. Bert's goal was to raise a family in the farming life, (on a dairy farm as he was raised) having accomplished that, he moved on as a tool & die journeyman for several companies including Burr Oak Tool, Kirsch Co., Sturgis Tool & Die, and finally at Multi Plex, he achieved a mark of excellence with all the aforementioned. Bert retired and focused on his #1 priority, his children and grandchildren, sharing his love of farming and his passion for tractors and equipment needed to be a farmer. His legacy lives on in his family.
He was member of St. Paul's Lutheran Church, 4H, Centreville FFA and FFA alumni, enjoyed stock car racing with his family at Mottville Speedway, M-40, and Angola tracks, and later in life enjoyed being a member of the St. Joe Valley Old Engine Association.
Surviving are his wife Judy K. Snook, Sturgis, children Darla (Ronald) Webb, Sturgis, Berton E (Amy) Snook II (Skip), White Pigeon, Nicholas (Lori France) Snook, Sturgis, Jodi Morell, Sturgis, grandchildren Casey (Courtney) Webb, Amber Webb, Cory Snook, Donovan Snook, Michael (Crystal) France, Heather France, Faith Morell, Ashley Morell and Brian Morell Jr., great grandchildren Caleb, Bella, Wyatt, Arrianna, Kasen, Emma, Kylie, Niklaus and Elijah, sisters Lila (David) Lutz, Marlene (Gale) Marshall and Judy Gross, many nieces and nephews. He was preceded in death by his parents and brother-in-law Duane Gross.
Cremation has taken place. Relatives and friends will be received Tuesday Jan. 25 2022 from 4 to 6 pm at St. Paul's Lutheran Church, 600 W. Burr Oak St., Centreville. A memorial service will follow at 6 PM with Pastor Robert Bartz officiating. Memorial contributions may be directed St. Paul's Lutheran Church. To sign Berton's guestbook and leave a message for the family please visit www.eleyfuneralhomes.com.