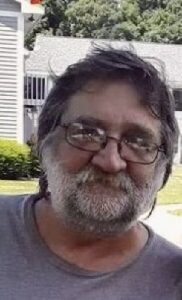 Robert J. White, Jr., age 65, of Sturgis, passed away Sunday morning, January 16, 2022 at Ascension Borgess Hospital in Kalamazoo.
He was born February 15, 1956 in Florida, son of the late Robert J. and Mary (Grabb) White, Sr.
Bob resided in Sturgis for the past five years coming from White Pigeon. He had also lived in Allegan for several years.
On April 28, 1990 he married Virginia Burns in Ravenna.
Bob had been employed By JBS in Allegan for several years. He also worked at Pioneer Seed in Constantine and Grumman Olson in Sturgis, and for five years he and Virginia operated the Little Country Motel in White Pigeon.
He enjoyed hunting, watching cooking shows and WWF, playing with the family cat and computer games.
Bob is survived by his wife: Virginia; three daughters: Rebecca Dewitt of Lowell, Markisha Burns of Bloomingdale, and Paige White of Sturgis; four sons: Robert White of Lowell, Ronnie Burns of Hemlock, Toby Burns of Sturgis, and Jacob White of Sturgis; 22 grandchildren; three sisters: Patricia Ripley of Reed City, Jackie of Coopersville and Valerie White of Texas; two brothers: David White of Hopkins and Michael White of Newago and many nieces and nephews.
He was preceded in death by his parents; granddaughter: Vanedra Bucholtz and sister: Debbie Marvin.
In accordance with his wishes cremation has taken place. A memorial services celebrating the life of Robert J. White, Jr. will be held at 11:00 A.M. Saturday at the Hackman Chapel of Hackman Family Funeral Homes, 114 S. Nottawa St. in Sturgis.
Memorial donations would be appreciated to the Hackman Family Funeral Homes, P.O. Box 9, Sturgis, MI 49091 to help with expenses.
Relatives and friends are encouraged to share memories and condolences at www.hackmanfamilyfuneralhomes.com.