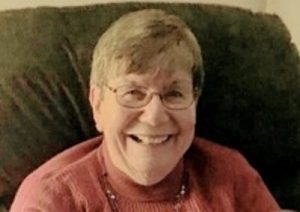 Connie L. Easterday, age 78, of Bronson, Michigan, died, Wednesday, January 19, 2022, at Cameron Hospital in Angola.
She was born in Sturgis on May 7, 1943, to the late, Vernon F. "Moose" and Marian A. (Larimer) Donley.
Connie was raised in the Greenfield Mills area of LaGrange County. She was a 1961 graduate of Brighton High School.
On July 15, 1962, she married David C. Easterday at St. John's Lutheran Church in Burr Oak. David survives in Bronson.
Along with her husband, David, survivors include a daughter, Terri and Brian Ellis of Howe; a son, Ron Easterday of Bronson; four grandchildren, Heidi Evans, Steven (Melody) Ellis, Matthew Ellis and Megan (Ian) Nelson; three great grandchildren, Allen Evans, Mason Evans and Caroline Ellis; and a brother, Roger and Betsy Donley of Bloomfield Hills, Michigan.
Funeral services will be held at 11 a.m. on Monday, January 24, 2022, at St. John's Lutheran Church in Burr Oak.  The Pastors Kurt Kuhlmann and Dave Bogda will officiate the service.
Burial will take place in Trayer Cemetery, Bronson, Michigan.
A viewing will be held on Sunday, January 23, 2022, from 2 p.m. to 5 p.m. at the Frurip-May Funeral Home, 309 West Michigan St., LaGrange, IN 46761.
Memorials may be given in Connie's memory to St. John's Lutheran Church.
Online condolences may be sent to the family at www.fruripmayfuneralhome.com