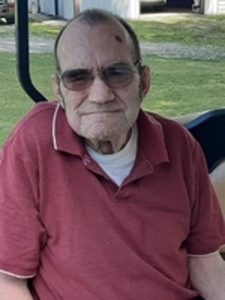 David C. Easterday, age 80, of Bronson, died on Friday, January 28, 2022, at his residence.
He was born on August 19, 1941, in Plymouth, Indiana to Carl Elbert and Matilda Wilhameta "Tilly" (Miller) Easterday.
David worked in the maintenance department at the Kirsch Company in Sturgis for 42 years.
He was known for being able to fix about anything. Neighbors, friends and family would bring him stuff to fix and for years he basically ran a repair shop out of his backyard.
Dave was an avid gun owner and a proud member of the NRA. He was also a member of St. John's Lutheran Church in Burr Oak.
On July 15, 1962, he married Connie L. Donley at the St. John's Lutheran Church. Connie preceded David in death on January 19, 2022.
Surviving is his daughter, Terri and Brian Ellis of Howe; a son, Ron Easterday of Bronson; four grandchildren, Heidi Evans, Steven (Melody) Ellis, Matthew Ellis, and Megan (Ian) Nelson; three great-grandchildren, Allen Evans, Mason Evans and Caroline Ellis; two brothers, Bob and Shanda Easterday of Sturgis, and Richard and Ellen Easterday of Bronson.
Funeral Services will be held on Thursday, February 3, 2022, at St. John's Lutheran Church in Burr Oak, with Pastors Kurt Kuhlmann and Dave Bogda officiating the services.
Burial will take place in Trayer Cemetery in Bronson, Michigan.
A viewing will be held from 4:00 to 7:30 p.m. on Wednesday, February 2, 2022, at the Frurip-May Funeral Home, 309 West Michigan St. LaGrange, IN 46761.
Memorials may be contributed in David's memory to St. John's Lutheran Church.
Online condolences may be submitted to the family at www.fruripmayfuneralhome.com
Arrangements by Frurip-May Funeral Home, LaGrange, IN.