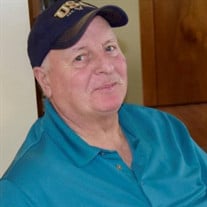 David Michael Grames, age 71, of Three Rivers, passed away on Monday, January 3, 2022.
David was born in Three Rivers on May 18, 1950, the son of George Edward Grames and Rose Mary (Sitar) Ball.
On November 18, 1995, in Marcellus, he married Jennifer Lee Wyman, who survives him.
David was a cement truck driver working at Consumers Concrete for 30 years.
David graduated from Marcellus High School in 1968. He was an avid card player and he started playing at the age of 11. He loved sports, especially football and basketball. His favorite team was The Ohio State University. He made numerous lifelong friends while bartending at the Inn-Between in Dowagiac, owned by good friends Carl and Ronnie Reuter. The biggest part of his personality was his ability to make friends easily. He was also a member of the Men's Auxillary at the Marcellus VFW Post 4054.
David is survived by his children Dawn (Paul) Jones of Fritch, TX; Derrick (Jennifer) Grames of Bossier City, LA; Donnie (Jennifer) Grames of Elgin, TX; stepchildren; Scott (Terri) Wyman of Edwardsburg; Stefany Thornburgh (Jeff Etter) of Marcellus; Stacy (Spencer) Holmes of Marcellus; grandchildren; Mychal Grames, Zachary Grames, Benjamin Grames, Elaina Grames, Nicholas Grames, Jack Grames, and Zoe Grames; stepgrandchildren; Ashley Wyman, Tyler Wyman, Sara Wyman, Josh Wyman, Kylie Jones, Carter Thornburgh, Cole Thornburgh, Ellie Holmes, and Emma Holmes; step-greatgrandchildren; Sawyer Jones, Logan Jones, and Ella DeMorrow; brothers; Greg Grames of Marcellus; Tom (Virginia Slentz) Ball of Constantine; sisters; Charlene (Ted) Paddock of Brighton, MI; Phyllis Baker of Shipshewana. He is also survived by many nieces and nephews.
David was preceded in death by brothers James Grames and Doug Ball; and son Desi Grames; sister- in-law Klover Grames.
Cremation has taken place. A Celebration of Life will take place at a later date in the spring. Memorial donations may be directed to Animal Rescue Fund P.O. Box 593 Centreville, MI 49032. Online condolences may be left at www.materralstonfuneralhome.com.