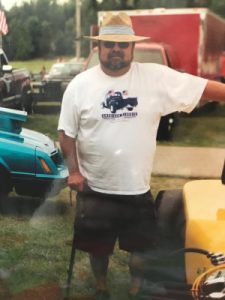 George C. Hoover, age 74, of Mendon, died Wednesday, Jan. 5, 2022 at the Three Rivers Health Emergency Room. He was born in Three Rivers on May 9, 1947 the son of Clifford C. and Joan P. (Kolthoff) Hoover and was a lifetime resident of Mendon. He graduated from Mendon High School with the class of 1965. He worked as an independent truck driver before his employment for many years at Lear Plastics in Mendon. He enjoyed fishing, working on cars, going to the races, and watching NASCAR events.
George was married to Kathleen O'Whene on Oct. 19, 1978 in Centreville.
She survives along with three children, Wendy Kennedy of Three Rivers, Victor (Amanda) Wilczynski of Mendon, and Brianna Johnson of Three Rivers; eight grandchildren; three great-grandchildren; and a sister, Dixie Kain of Sturgis. He was preceded in death by his parents; brother Jerry Hoover; and granddaughter, Emma Rowell.
In keeping with his wishes, cremation has been conducted, and the family will plan a memorial service at a later date. It is suggested that memorial donations in memory of George be directed to the Mendon Community Schools Foundation, 148 Kirby Rd., Mendon, MI 49072; or online at www.mendonschools.org    Professional assistance was provided by the Eickhoff Funeral Home of Mendon. Condolences and memories may be shared at www.eickhofffuneralhome.com