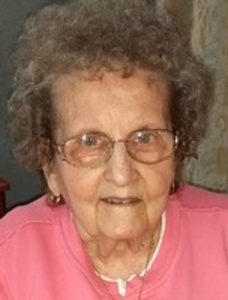 Geraldine D. "Gerry" Summey, age 90, of Sturgis, passed away early Tuesday morning, January 25, 2022 at Thurston Woods Village in Sturgis.
She was born July 19, 1931 in Chicago, daughter of the late Joseph and Della (Plopa) Savicz.
Gerry moved to Three Rivers in 1948 coming from Chicago where she was a graduate of Chicago St. Louis Academy High School.
On September 30, 1950 she married Robert Summey in Three Rivers. The couple moved to Sturgis where she continued to live until her death. Robert preceded her in death April 7, 1991.
Gerry retired in 1991 from the Kirsch Company in Sturgis following 40 years of dedicated employment.
She was a longtime member of the Holy Angels Catholic Church in Sturgis and she enjoyed needlepoint and antiques.
She is survived by one son: Robert (Mary Anne) Summey of Kalamazoo; one grandson: Matthew (Ellen) Summey of Washington, DC and two great grandchildren: Cole Patrick and Caroline June Summey.
She was preceded in death by her parents, daughter-in-law: Carol Lee Summey, March 19, 2013 and brother: Joseph Savicz of Sun City West, Arizona.
The family will receive friends from 10:30 to 11:30 A.M., Saturday, February 19th at the Hackman Chapel of Hackman Family Funeral Homes, 114 S. Nottawa St. in Sturgis. Prayers before the Funeral Mass will begin at 11:30 A.M. Saturday at the funeral home followed by a procession to Holy Angels Catholic Church in Sturgis where the Funeral Mass will begin at 12:00 P.M. The Rev. Father Andrew Raczkowski celebrant. A graveside committal will follow the Mass at Oak Lawn Cemetery in Sturgis.
The family suggests those wishing to make a memorial donation in Mrs. Summey's memory consider the Holy Angels Catholic Church, 402 S. Nottawa St., Sturgis, MI 49091.
Relatives and friends are encouraged to share memories and condolences at www.hackmanfamilyfuneralhomes.com.