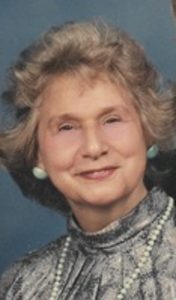 Helene Flossie Bumann, age 91, of Sturgis, passed away Monday afternoon, January 10, 2022 at Oaklawn Hospital in Marshall,.
She was born January 11, 1930 in Sturgis, daughter of the late Peter and Emily (Eyester) Pappas.
Mrs. Bumann was a lifelong Sturgis resident. On June 15, 1947 she married Albert Dale Bumann at the Trinity Lutheran Church in Sturgis by the Rev. William Schalm. He preceded her in death February 23, 2021.
She had been employed by the Sturgis Carton Company and the Sturgis Public Schools as a "lunch Lady" and was a dedicated wife, mother and homemaker.
Mrs. Bumann was a longtime member of Trinity Lutheran Church in Sturgis and enjoyed fishing with Al and Albert and loved time spent with her entire family.
She is survived by one daughter: Emily Diana Frohriep of Sturgis; one son: Albert Dale Bumann, Jr. of Sturgis; twin sister: Irene Miller of Marshall; her grandpaws: Thunder, Oliver, Max and Angel; and many nieces and nephews.
She was preceded in death by her husband; three sisters: Frances Ryan, Mary Summey and Georgia Kreider and three brothers: Gus Pappas, Nick Pappas and Jim Pappas.
In accordance with her wishes cremation has taken place. A memorial service celebrating the life of Helene Bumann and what would have been Al and Helene's 75th wedding anniversary will be held at 11:00 A.M., Wednesday, June 15, 2022 at the Trinity Lutheran Church in Sturgis. The Rev. Calvin Kolzow will officiate. A graveside committal will follow the service at Oak Lawn Cemetery in Sturgis.
The family suggests those wishing to make a memorial donation in Mrs. Bumann's memory consider Trinity Lutheran Church, 406 S. Lakeview Ave., Sturgis, MI 49091 or Hope for the Animals of SJC, 25420 Mintdale Rd., Sturgis, MI 49091.
Relatives and friends are encouraged to share memories and condolences at www.hackmanfamilyfuneralhomes.com.