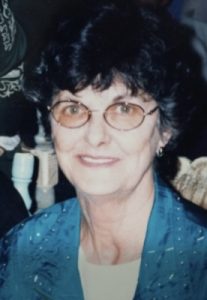 Jacqueline "Jackie" Harker, age 91, of Sturgis, passed away Friday, January 21, 2022, at Thurston Woods Village in Sturgis.
She was born November 4, 1930, in Sturgis, to the late Edward and Carol (Ritter) Carpenter of Howe, Indiana.
On November 14, 1950, Jackie married Max Harker in Angola. He preceded her in death on September 14, 1989.
Lifelong residents of the area, Jackie and Max started, owned, and operated Northern Cashway Lumber Company, Sturgis Construction Company, and Max Harker Real Estate. They were passionate about developing the Sturgis area and helping others.
Jackie adored her family. She loved attending all of her children's and grandchildren's events and sports — no matter how far a drive, no matter the weather, she was always there to show her support. The family's gathering spot was at "the lake," first at a cottage on Fish Lake and in later years at Jackie's home on Klinger Lake. Her family cherishes the many memories they have with her there, swimming, fishing, cooking, and relaxing on the patio.
She was a Lady Elks member and enjoyed golfing, bowling, and traveling both near and far with friends and family, which she did often, even walking a section of the Great Wall of China and touring Taiwan. One of her favorite getaway spots was Las Vegas with the girls.
Jackie is survived by daughters Karen Frutig and Sherry (Ken) Link; son Mark Harker; grandchildren Chris Frutig, Phillip Frutig, Heidi Blesch, Eric Frutig; Craig Link, Lauren Link (fiancé Matt Blair); Maxwell (Aya) Harker, Bridget Singleton; Marshall (Sarah) Harker, Ariel (Jeff) Ditton, Laurel Harker; 27 great-grandchildren; 7 great-great-grandchildren; sister Linda Grabowski; brother-in-law Larry Harker; sisters-in-law Romayne Carpenter and Doris (Robert) Butts; daughter-in-law Cheryl Harker; and many nieces and nephews.
She was preceded in death by her husband; son Wesley "Lee"; two infant children Craig and Kay Frances; brothers Richard "Dick" Carpenter and Lyle Carpenter; and daughter-in-law Beverly Harker.
According to her wishes, Jackie will be buried next to Max at Oak Lawn Cemetery. The family will celebrate her life privately at this time, and will hold a service honoring her at a later date.
The family extends a heartfelt thank you to the caring and compassionate hospice nurses and staff who supported Jackie and her loved ones.
The Hackman Family Funeral Homes of Sturgis is entrusted with the arrangements.
In lieu of flowers, the family suggests those wishing to make a memorial donation in Jackie's memory consider ProMedica Hospice, 8075 Creekside Dr. #120, Portage, MI 49024 or one of the many charities she supported, including Shrine Hospital, 233 Fulton Suite 102, Grand Rapids, MI 49503, Sturgis Salvation Army, 105 N. Fourth St., Sturgis, MI 49091, Wounded Warrior Project, 4899 Belfort Road Suite 300, Jacksonville, FL 32256, and Tunnel to Towers Foundation, 2361 Hylan Blvd, Staten Island, NY 10306.
Relatives and friends are encouraged to share memories and condolences at www.hackmanfamilyfuneralhomes.com.