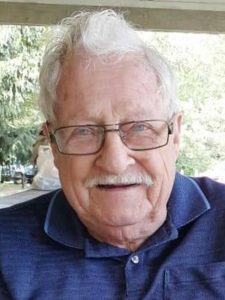 James Leroy Ward, age 83, of Three Rivers, passed away Thursday, January 13, 2022 at Three Rivers Health.
He was born June 22, 1938 in Allegan, the son of Lewis and Ida Mae (Frink) Ward.
James did janitorial work at Walmart for more than 10 years.
He loved to go camping and to the fairs; he loved to fish (but didn't like the water); he loved to stay the weekends with all of his children.
Remaining to cherish James' memory are his wife of 43 years, Charlotte (Housour) Ward; son, Jimmy Lee "Jimbo" (Wendy) Ward; daughters, Tammi Lynn Smith, Cynthia "Cindy" Pauline Longacre and Sophia Mae (Johnny) Ward-Williamson; 11 grandchildren and 18 great-grandchildren.
In accordance with family wishes, cremation has been conducted; a celebration of life will be held at a later date.
Donations in James' memory may be directed to the Ward family in care of Charlotte Ward. Envelopes are available at and may be sent to the Hohner Funeral Home in care of his arrangements.