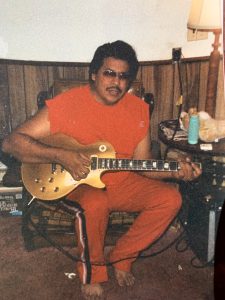 John A. Garcia, age 69, of Three Rivers, passed away Sunday, January 9, 2022 at Ascension Borgess Hospital.
He was born December 14, 1952 in Harlingen, Texas, the son of Merced and Alicia (Parra) Garcia. The family came to Centreville in 1965, then moved to Three Rivers where he graduated with the Class of 1971.
After high school John worked some manufacturing jobs and at Pathfinder Center as a teacher's aide.
He attended Pinecrest Bible School in 1982 and the following year went to work at Fibre Converters. He later worked at Lear Corporation (IAC) in Mendon from where he retired on March 13, 2020.
John married Kimberly Trattles on August 29, 1987 in Three Rivers; their son Paul was born in 1989.
Remaining to cherish his memory are his wife, Kimberly Garcia; his son, Paul A. Garcia (fiancée Kelsey Miller); five grandchildren, Braxton, Wyatt, Harrison, Olyvia and Adisynn; siblings Miguel Garcia, Olga (Julio) Trevino, Lydia (David) Voros, Robert (Irma) Garcia and Roy (Emilia) Garcia.
John was preceded in death by his parents, one brother and two sisters.
Visitation will be held Friday, January 21, 2022 at 1:00 p.m. at Hohner Funeral Home, 1004 Arnold St., Three Rivers. A funeral service will follow at 2:00 p.m. at the funeral home with nephew Abraham "Abe" Garcia officiating. Interment will be in Moorepark Cemetery.
Donations in John's memory may be directed to the charity of one's choice. Envelopes are available at the funeral home.