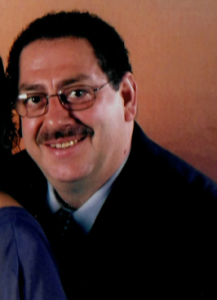 Kenneth L Anglemyer, age 65, of Constantine, died on Wednesday, January 12, 2022 at Goshen Hospital. He was born February 3, 1956 in Elkhart a son of Herbert and Carol (Garl) Anglemyer. Ken graduated from Constantine High School in 1974. On March 11, 1978 he married Cynthia Roesener.
Ken retired from GM / American Axel after 30 years of service, and was a member of the fire brigade. In 1984, he and Cindy started Tae Kwon Do and later taught TKD classes at the University of Notre Dame.  This lead to eventually opening their own school, Anglemyer's Tae Kwon Do Academy in Constantine. Ken was a third degree black belt who received numerous awards from the North American Tae Kwon Do Association.  Ken enjoyed scrapping, the forever yard sale, dogs, collecting sports cards and various items, fishing and mushroom hunting. He especially cherished time spent with his family, including game nights and hog roasts. Ken met the Lord and grew in his faith over the last several years at Elkhart East Christian Church and Verse By Verse Church in Three Rivers.
Surviving are his wife Cindy Anglemyer, daughter Kristi (Matt) Lusk, son Kenny (Becca) Anglemyer, grandchildren Tre Rowe and Bryce Lusk, Kairi and Kohen Anglemyer,  sisters Pauline (Marion) Konkle, Gloria Wagner, Cindy (Chad) Rumple, Patty (Rick) Mosher, brother Roger (Deb) Anglemyer, and several nieces and nephews. He was preceded in death by his parents, and baby brother Herbert Anglemyer.
Relatives and friends will be received Sunday from 2 to 5 pm at Eley Funeral Home in Constantine, where Religious services will be held Monday at 11 am. Pastor John Koller will officiate. Burial will be in Plum Grove Cemetery, Union. Memorial contributions may be directed to Verse by Verse Church in Three Rivers.  To sign Ken's guestbook and leave a message for the family, visit www.eleyfuneralhomes.com.