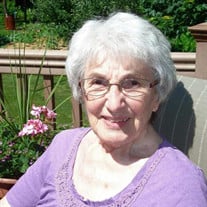 Lois Eleanor Fox, age 100, of Volinia, Michigan passed away Friday, December 31, 2021 in Dowagiac.
She was born in Bristol, Indiana on January 18, 1921, the daughter of William Jasper Morris and Edith Mae Menges.
On April 15, 1949, in Elkhart, she married Paul C. Fox who preceded her in death in 2009.
Lois loved to take care of her family and host family get togethers. She was born in a farmhouse in a blizzard and lived through the Great Depression. She joined the Seventh-day Adventist Church in Elkhart, and was encouraged by friends to go to college for her teaching degree. Lois attended La Sierra College in California, and Emmanuel Missionary College (now Andrews University) in Berrien Springs. She was a schoolteacher at Marion, Indiana and Vandalia, Michigan. In later years she worked as a paraprofessional at Glenwood Seventh-day Adventist Elementary School, then at Marcellus Public Schools.
She loved to watch and feed the birds. She enjoyed canning and freezing the vegetables she harvested from her garden and caring for rose bushes that her father planted for her.
Lois was the last surviving member of her graduating high school class at Bristol, and until recently, attended their annual reunions.
Lois is survived by her daughters; Rita (Galen) Pusey of Dowagiac; Nancy (Dale) Gooden of Allendale; son Kenneth Fox of Volinia; six grandchildren and ten great grandchildren.
Lois was preceded in death by her husband and parents; sisters, Arlene Wagoner, Erma Morris, Ruth Mang, brothers Arnold Morris and Eldon Morris.
The family will receive friends at 10:00 am January 7, 2022, at the Mater-Ralston Funeral Home, 52780 M-40 North, Marcellus. Funeral services will be held at 11:00 am with Pastor Ted Toms and Tom Shepherd of the Dowagiac Seventh-day Adventist Church officiating. Burial will follow at Wayne Township Cemetery Dowagiac. Memorials may be directed to the Dowagiac Seventh-day Adventist Church. Online condolences may be left at www.materralstonfuneralhome.com