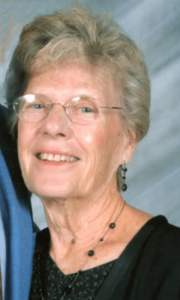 Margie Ann (Klingel) Egnew, age 89, passed away peacefully on Saturday, January 8, 2022 of natural causes at Riley's Grove in Zeeland, MI where she had been living. Margie was born on June 3, 1932 to Harry V. Klingel and Laura E. (Mikesell) Klingel in Ft. Wayne. Her family relocated to Chicago where she lived until the sixth grade. Then the family moved to Three Rivers when her father got a job at The Eddy Paper Company. Margie graduated from Three Rivers High School in 1950. She married Ernest Egnew on July 28, 1951 at the Immaculate Conception Church in Three Rivers. Ernie was serving in the U.S. Army during the Korean War and Margie went with him back to the base. After the war, Margie tended to their two daughters and worked part-time and eventually full-time in the office at Weyerhaeuser Company in Three Rivers. For 14 years after retiring, she and Ernie spent their winters in Lake Havasu, AZ. In later years, they spent the month of March in Myrtle Beach, SC.
Margie is survived by her daughters: Lori (Ted) Seibert of Ridgefield, CT and Susan (Paul) Schadel of Holland, MI; 3 grandchildren: Emily (Roy) Miller of Elkhart, Alyson Yee (Paul Fagerstrom) of Schwarzach a. Main, Germany, and Kara Dobernig of Kingston Springs, TN; 2 great-children and many nieces and nephews. Also surviving are brothers and sisters-in-law Richard and Bonnie Boughton; and David and Deanna Klingel; and Jean Klingel. In addition to her husband, who passed way in August of 2020, after 69 years of marriage, Margie was preceded in death by her parents, and brothers, William and R. Thomas Klingel.
Growing up in a very athletic family, Margie enjoyed playing golf, tennis and pickleball. She was also an avid bridge player, as well as other card games. She and Ernie were members of Elks Lodge #1248.
Margie was a wonderful homemaker, wife, and mother. She was famous for her pies and "Aunt Margie's Sugar Cookies." She enjoyed travelling, going out to dinner, and visiting with family & friends. She will be sorely missed by her family and all who knew her.
A private burial is planned with a Celebration of Life to be scheduled in the future.
Contributions in Margie's memory may be made to:
Danbury Grass Roots Academy
P.O. Box 2912
Danbury, CT 06813
Arrangements by Hohner Funeral Home.