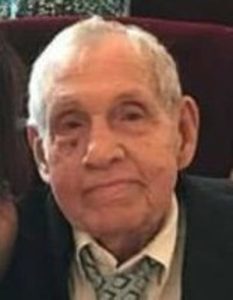 Robert Albert Grams, age 87, of Sturgis, passed away Friday, January 21, 2022 at Skaggs Assisted Living in Burr Oak. A memorial service for Robert will be held Saturday, February 12, 2022 at 10:00 a.m. at Christian Fellowship Center Church in Sturgis. The family is being cared for by Dutcher Funeral Home in Bronson.
He was born September 19, 1934 to Edward and Marie (Scofield) Grams in St. Joseph, MI. They moved to Colon before he was 5, and Robert attended and graduated school in Colon. Robert had started his employment with M&R Labs through its transition to Ross Labs and finally Abbott labs where he retired after a long career as an electrician. He married Betty Notestine and she preceded him in death on September 14, 2017. Mr. Grams had been enlisted in the United States National Guard and participated in bowling leagues out of his passion for the sport. He also enjoyed going to casinos and playing cards, especially euchre; but above all, Robert valued his time and love for his family.
Bob leaves behind his children, Phillip (Cindy Kline) Grams of Meadville, PA, Rhonda (Chuck Neutz) Gilger of Coldwater, Scott Grams of Meadville; his step-children Vicky (Dave) Atherton of White Pigeon, Cathy (Floyd) Marchand, Dan Matianski both of Sturgis, Bobby (Caryn) Nichols of White Pigeon; six grandchildren; eight great grandchildren; two great-great grandchildren; his nieces and nephews; and his close friends Dewayne (Shirley) Jordan of Sturgis.
In addition to his wife Betty, he was preceded in death by his parents, one sister Pauline Knight, one brother Floyd Grams, his infant son Dennis Grams, and step-daughter Mary Matianski.
Memorial donations are suggested to Christian Fellowship Center Church, 201 N. Street, Sturgis, MI 49091.