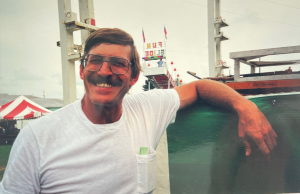 Rocky A. Neice, age 67, of Centreville, passed away at his home on Thursday, January 6, 2022 surrounded by his family.  Rocky was born in Butte, MT on March 2, 1954, a son of Bill and Doris (Reedy) Neice. He attended school in Terra Haute, IN.  Rocky was an independent truck driver for most of his life.  Driving truck was his true passion.  He also enjoyed riding his golf cart around, spending time with his family, and having barbecues.  On February 6, 2006, he married Laura Adams in Las Vegas, NV.
Surviving Rocky are his wife Laura Neice of Centreville, daughter Tammy Jo Neice of Elkhart, daughter Angela Dawn Neice of Three Rivers, 8 grandchildren, 3 great grandchildren, sister Sharon Rose Sullivan of Terra Haute,  brother Joseph R. (Julie) Neice of Terra Haute, and several nieces, nephews, and cousins.
He was preceded in death by his father Bill Neice, mother Doris Dickens, and sister Gloria Elkins.
Relatives and friends will be received on Monday from 12 to 2 PM at Eley Funeral Home in Centreville, with funeral services following at 2 PM.  Pastor Terry Neumayer, Trinity Missionary Church, will officiate.  Interment will follow in Prairie River Cemetery, Centreville.  Memorial contributions can be given to the funeral home to help the family with expenses.
Please visit www.eleyfuneralhomes.com to sign Rocky's online guestbook and to leave a message for the family