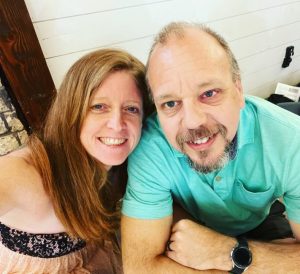 Roger Shingledecker, a loving, faithful and loyal man, went home to be with Jesus on Friday, January 7, 2022 in Fort Worth, Texas.
Roger was born to Raymond & Jo Anne (Chaplin) Shingledecker on September 30, 1972 in Sturgis. He spent his entire childhood in Three Rivers, and graduated from Three Rivers High School in 1990.
He enlisted in the Army while still in high school and turned 18 in boot camp. He was stationed at Fort Jackson, South Carolina,   Seoul, South Korea,   as well as Fort Bragg, North Carolina.
On April 11, 1992 he married his best friend Rebecca Gordon in White Pigeon. He always opened the car door for her no matter the weather. They did everything together.
He began following Jesus as his Lord & Savior in 2000 and faithfully served him until the end when Jesus walked Him into paradise where he is now worshipping the God who saved him. His absence is leaving a gaping hole but we do not grieve without Hope. I know without a shadow of a doubt we will be reunited one day where we will again worship together the One who saved us.
Roger took pride in his Fire/EMS service serving alongside his wife. They served together for about 12 years on Centreville Fire Department until moving to Texas in 2011. He was a self taught Jack of all trades but specifically was skilled at all things tech. He could be found on Sundays serving as audio/video leader in whatever church he attended- most recently Salt & Light Church.
He volunteered in various things over the years that his wife or kids were involved in such as Cub/Boy Scouts, his son's little league, church youth group and whatever else his wife talked him into. Among MANY other things, he helped his wife with a ministry serving asylum seekers called DASH. Several report that he was their first American friend.
If not at work, he could be found with Rebecca most evenings working out with his gym family at Crossfit Panther City. His most favorite thing to do was to spend time with his wife. He was the best husband a woman could ask for. He truly loved his wife as Christ loves His church. He laid down his life for her. He became her caretaker of sorts due to a brain tumor that left her with brain damage.
He is survived by his wife and constant companion of nearly 30 years, Rebecca; children: Layla, Zakary and Nikita Shingledecker; Granddaughter whom he adored: Sutton; his parents: Ray (Sue) Shingledecker and Jo (Dave) Grosskunze. He also leaves Rebecca's parents: Jo Ann (Kevin) Pelmear, Joe (Susan) Gordon. His siblings: Quentin (Vanessa) Moore, Chad (Jessica) Shingledecker, Kenny (Tasha) Shingledecker, Kreig (Lucas) Schmidt, Mandy Grosskunze, Terry (Stacy) Grosskunze, Dian (Mark) Nordblom, Cindy (Brian) Sobeck as well as brother-in-law Chris (Joanna) Gordon, along with many nieces & nephews, aunts & uncles & cousins and extended family.
His brother, Jerry Chaffee preceded him in death 33 days before him.
Visitation will be Thursday, January 27th from 4:00 to 7:00 PM at Laurel Land Funeral Home in Fort Worth, Texas. A Celebration of Life will be Friday, January 28th at 11:00 at Laurel Land also. Interment will follow at Dallas-Fort Worth National Cemetery. A reception will be held following the interment at Crossfit Panther City, 7400 Oakmont Blvd #100, Fort Worth, TX.
A Celebration of life will be held in Michigan on Saturday, January 22 at 10:00 AM at Verse by Verse Church 300 Enterprise Drive, Three Rivers, followed by a luncheon to be held at the Moose Lodge, 110 Day Dr, Three Rivers.