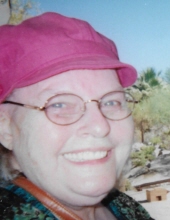 Sandra Lee Charging, age 79, of Sturgis, passed away early Sunday morning, January 30, 2022 at Fairview Nursing and Rehabilitation in Centreville.
She was born March 2, 1942 in Three Rivers, daughter of the late Jack Robert and Gladys (Baker) Foote. Sandra's mother died a short time after giving birth. Sandra's grandparents: Vurmen and Minnie Baker took on the responsibility of raising her.
Sandra resided most of her life in Three Rivers until moving to Sturgis in 1998.
She was a homemaker and member of Kingdom Hall of Jehovah's Wittnesses.
Sandra enjoyed watching the Home Shopping and Q.V.C. networks and window shopping. She had a love for fishing and from the time she was a young girl would fish nearly every day off the Main Street Bridge in Three Rivers and would sell her catch to area residents. She had a bit of a wild spirt and would often hop a freight train in Three Rivers, riding to Portage and back again. Sandra also enjoyed hiking, bicycle riding and just being in the outdoors.
She is survived by her children: Stacy Stryker, of Sturgis, Shawn (Dee) Purk of Midland and Angel Purk of Sturgis and 4 grandchildren.
She was preceded in death by her parents, grandparents and one brother: Bud Baker.
In accordance with her wishes cremation has taken place. A gathering of family and friends to celebrate the life of Sandra Lee Charging will be held at a later date to be announced.
The Hackman Family Funeral Homes of Sturgis is entrusted with the arrangements.
Memorial donations would be appreciated to the Hackman Family Funeral Homes, P.O. Box 9, Sturgis, MI 49091.
Relatives and friends are encouraged to share memories and condolences at www.hackmanfamilyfuneralhomes.com.