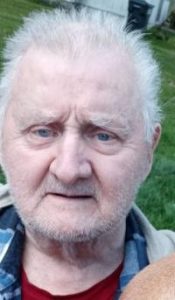 Stanley Eugene Coats passed away December 29th, 2021 at Borgess Hospital in Kalamazo. He was born December 4th, 1943 at St. Joseph Hospital in Vassar, MI to parents, Isabelle Hanks and Clifford H. Coats. Stan was the youngest of fourteen children and graduated from Millington High.
He joined the United States Air Force at age eighteen, completed training in Texas and began assisting as a clerk/typist. He proudly served four years. Upon leaving the Air Force, Stan became self-employed specializing in outdoor home improvements. He met Sheron Glee Gatlin in 1968, and they had one son together, Bradley Gene Coats, who joined brothers Jeffery, Gregory, and Timothy Holden. The couple married in 1973 to complete the family of six. In 1974 Stan began his career at General Motors. Together the family lived a full life creating memories as they moved many times, each place better than the last, during Stan's career with GM. He retired from GM as an inspector in 2004, after 30 years of service. After his wife's death in 2005, Stan moved to Jones, MI. He liked to spend his time with his dogs and woodworking. He specialized in crafting octagon picnic tables and decorative wells. In 2009 he met Laura McClain. The couple enjoyed going to thrift stores and garage sales to search for unexpected treasures.
Stan will be remembered for his perseverance, his selfless nature that always wanted to help the underdog or less fortunate, his creativity with woodworking, and his special good natured dry wit.
He leaves behind his partner Laura McClain, sons Jeff, Greg, and Tim; two brothers, Jim and Gerald (Jerry) Coats; three sisters, Dora (Dodie) Hazelwood, Leona Schmitter, and Thelma Weeks; seven grandchildren, and seven great-grandchildren.
Information will be announced at a later date for a Celebration of Life that will take place in June. www.GRcremation.com