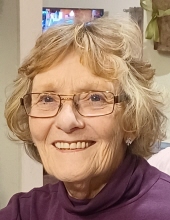 Valerie Kay Reinbold, age 75, of Colon, passed away on Saturday, January 22, 2022 peacefully at home surrounded by family.
A memorial service will be held at 12:00 Noon on Saturday, February 5, 2022 at the Sherwood Free Methodist Church, 414 S. Main St., Sherwood, MI. Visitation will be held at the Sherwood Free Methodist Church just prior to the service, from 10:30 AM – 12:00 Noon on Saturday, February 5, 2022. The family is being served by Lighthouse Funeral & Cremation of Union City.
Valerie was born on December 9, 1946, in Coldwater to Darwood and Minnie (Swihart) Adams. She graduated from Union City High School in 1965. She was a physical therapy aide for the Battle Creek VA Hospital for 23 years. Valerie was someone who was always on-the-go. She always had to be doing something or going somewhere, such as stopping by McDonald's with her best friend, Becky Beard, or enjoying Sunday breakfast with Ralph Gottschalk.
In retirement, Valerie became a dishwasher at the Copper Kettle, where she worked with her daughter, Julie. The dishwashing was just a side note; it really gave Valerie the ability to socialize with her friends and family at the popular Athens establishment. When not working, Valerie would relax with her cat named Teddy, who blessed Valerie by adopting her whether she wanted him to or not. They loved watching deer in her backyard through her window. Above all else, Valerie loved her family and would do anything for them. She was a member of the Sherwood Free Methodist Church.
Valerie is survived by her daughter, Julie McMaster of Sherwood; her grandchildren, Alexander Bennett of Battle Creek, Thomas (Rachelle) Gifford of Mendon, and Gregory (Abby) Gifford of Leonidas; her adopted foreign exchange student grandchild, Sheli (Michael) Schroeder of South Korea; her soon-to-be great-grandchild, Baby Nash; her brother, Darrel (Deborah) Adams of Colon; her close cousin, Mary (Walter "Doc") Rosenberry of Marshall; many more cousins; and very good friend, Becky Beard of Union City.
Valerie was preceded in death by her parents, aunts, uncles, and some of her cousins.
Memorial Donations are suggested to­­­­­­­­­­­­ Centrica Hospice, 7100 Stadium Drive, Kalamazoo, MI 49009, or to the National Pancreas Foundation, 3 Bethesda Metro Center, Suite 700, Bethesda, MD 20814.