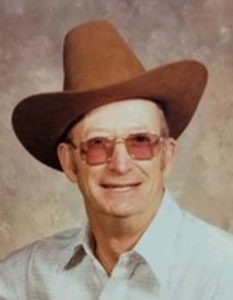 Sharron "Zeb" LaMar Miller, age 98, passed away in Three Rivers on Saturday, January 22, 2022.
He was born January 8, 1924, a son to the late Virgil Miller and Frances (Welburn) Miller.
He married Margaret M. Geark on August 26, 1944 in Sturgis. She preceded him in death in 1985. After the passing of his first wife he remarried in 1986 to Frances Tase.
Zeb lived in White Pigeon almost his entire life. He was a farmer, Standard Oil Jobber and the Mayor of White Pigeon in those days. After he retired he spent many winters in Florida. His true love was music. He played guitar from an early age and was in a band called "The Down Yonders" for over 50 years. He was best known by his nickname "Zeb."
Sharron is survived by a son: Eldon (Susan) Miller of White Pigeon; daughter: Diane (Dee Garman) Babcock of White Pigeon; grandchildren: Mindy Miller of Kalamazoo: Stacy (Kevin) Whelan of Tecumseh, and Shannon (Saul) Rodriguez of Lansing; great-grandchildren: Sophia, Lucy and Maya Whelan, Margaret and Emmy Rodriguez; sister-Ideana (Clarence) Yoder of Goshen, and several nieces and nephews.
He is preceded in death by his first wife: Margaret Miller, second wife: Frances Miller, parents, siblings: Vivian Shirley Miller, Verland Miller, Zayda Wolf and Oma Bowen.
A private burial will be held at White Pigeon Township Cemetery and a celebration of life will be announced at a later date. Farrand Funeral Home, 300 N. Kalamazoo St., White Pigeon, has been entrusted with the arrangements.
In Lieu of flowers, please consider a donation to Kindred Hospice, 1911 W Centre Ave #1, Portage, MI 49024.