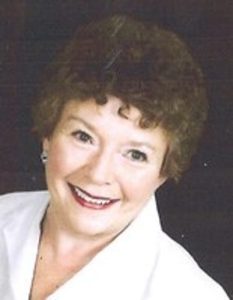 Beverly Ann McCullough, age 85, passed from this world to Heaven on Saturday, Feb 19, 2022.
She was born in Holyoke, Mass on Sept 3, 1936 to Harold and Ethel Majka Ironside and brought up in Franklin Park, IL.
Beverly graduated from Passavant Hospital of Northwestern University in 1957 with a nursing degree. There she met and married Dr. Hugh McCullough, then a medical student at Northwestern. Thereafter she was a surgical scrub nurse, a supervisor in a nursing home, and worked in her husband's office in Plain City, OH. Then, in Sturgis, she was a loving mother, devoted to her children, and a dedicated homemaker who also loved to entertain her friends. She was also exceedingly devoted to her church and to Sturgis, her community.
She was a member of First Presbyterian Church where she was an elder and had been a longtime member of the mission committee. She served as a girl scout leader, a high school band camp nurse, and as a Red Cross blood bank nurse. She was a member of the Sturgis Jr Womens' League and of the Nursery and Pediatric Guild and the hospital gift service guild serving each as president. She was a co-founder of the Sturgis Hospital Gateway Fitness Run. She was a longtime member and chairman of the Sturgis Council of the Arts and was most interested in the classical music series. All of these things led to her being named Sturgis Citizen of the Year in 1986. In 2010 she established the Beverly McCullough Performing Arts Endowment with the Sturgis Foundation. In 2011 she received the Book of Golden Deeds award from the Sturgis Exchange Club.
Even though her days and evenings were filled with volunteer projects, she dearly loved her children and all her family and was always there for them. She nurtured them, watched all of their activities, was so proud of them, and guided them to be successful and responsible, moral adults. Later, she enjoyed planning and traveling for many years to Europe with Hugh, wintering in the Villages, FL, playing golf, reading, gardening, listening to music, and, as Nana, watching her grandchildren grow. In 2011, she and Hugh moved to Greenville, SC to be in a southern retirement community and to be closer to their daughter. Beverly believed in God, lived a full and happy life, cared for her family, served people, and truly fulfilled God's wish for her.
She leaves behind her husband of 64 years, Hugh McCullough; son, Brian McCullough(Cate Calkins), Minneapolis; daughter, Cathleen DeBurton (Dennis), Sunset, SC; son, Neil McCullough(Jill), Grand Rapids; eight grandchildren: Bennett McCullough, Gwennyth McCullough, Chase Wenzel (Traci), Tyler Wenzel, Katherine McCullough, Michael McCullough, Steven McCullough, and Kristen McCullough; two great grand twins: Tanner and Quinn Wenzel; and brother, David Ironside(Susan), Hot Springs AK.
A gathering of family and friends in Sturgis will be held later. Any wished memorials could be granted to the First Presbyterian Church, Sturgis. Arrangements by Thomas McAfee Funeral Homes, Greenville, SC, and Hackman Funeral Homes, Sturgis.