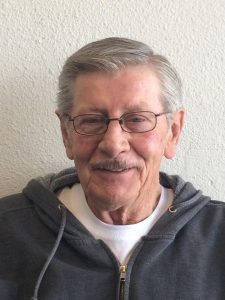 Robert E. "Bob" Hambright, age 80, of Mendon, died Monday, Feb. 21, 2022 at his home. He was born in Kalamazoo on March 27, 1941 the son of Ernal and Eleanor (Cushing) Hambright. He graduated from Portage Central High School in 1960 where he was active in sports and excelled in gymnastics. He worked briefly at the Kalamazoo State Hospital before going to work at the Fisher Body Plant in Kalamazoo where he retired after 34 years. He was married to the former Cheryl Noblock, and they were later divorced.
Bob enjoyed bowling in his younger days and rolled a 299 with a rented ball in 1962. He golfed in several area leagues for many years. He enjoyed fishing the area lakes and rivers and deer hunting "Up-North". He was a big Michigan State fan and attended many of the Spartan home games.
Bob is survived by five children, Terry Lynn Asselin of Mendon, Robyn Hambright off Brownsville, TX, Donna Marie Tool of Dallas, TX, Stephen R. (Kathy) Hambright of Vicksburg, and Angela (Thomas) Gerrgye of Parkland, FL; ten grandchildren, Layla, Heaven, Morgan, Parker, Jackson, Benjamin, Sydney, Allison, Jessica, and Grayson; a brother-in-law, Bernie Foster. He was preceded in death by his parents; and by his sister, Janet Foster.
The family will receive friends from 10 to 11 am Saturday, Feb. 26, 2022 at the Eickhoff Funeral Home in Mendon. Funeral services will begin at 11 am Saturday at the funeral home followed by burial in Mendon Cemetery. Memories and condolences may be shared at www.eickhofffuneralhome.com.