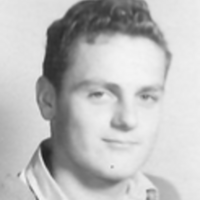 Delmar O'dell Gieber, age 90, died on Saturday, Feb. 5, 2022.  He was born on Jan. 19, 1932.
Delmar peacefully passed into eternal life while in the care of his loving family. A special blessing to Cherie and Kent Skaggs, Odie & Candy Ziesmer, and Logan, Roger, Craig and Kim for all the kindness to our father.
Delmar was born to Dorothea Slagle in Three Rivers Hospital. He married Kathleen O'Connor on Aug. 3, 1953, they were married for 60 years. Together they had 6 children, Dennis, Cherie, John, Craig, Roger and Kim. Delmar and Kathy raised their family at 1015 5th Street in Three Rivers.
Delmar was active in men's fastpitch softball from 1956 – 1966, as a pitcher and excellent batter. He won the batting crown in 1961 while playing for Peterson Springs Team. He went on to become an umpire in softball and baseball with his colleague Corky Crose. Delmar truly enjoyed being around the sport and the competition of young athletes. He umpired little league, men's and women's adult and high school games, and some college games.
Delmar was a dedicated fisherman. He greatly enjoyed Saturday mornings with his fishing buddy Arthur (Bud) West on Palmer Lake in Colon. He spent time with his Slagle family, especially his brother Dick playing Pinochle and having fish fry's.
Delmar worked for Peterson Springs, Garvey Manufacturing, Al Sebo, Square D Company, and lastly enjoyed his bait and tackle business. Delmar was not one to travel or go about trying to see the world. His world was simple and uncomplicated. Home, Family, Fishing, Cards and Sports.
Delmar will be remembered on June 18, 2022 at Immaculate Conception Church in Three Rivers with a Rosary at 10:30 AM, and his funeral mass at 11:00 AM. Interment will follow mass at Peek Cemetery. Family and friends are invited to a wake following the interment.
Saints of God, come to Delmars aid, come to meet Delmar, angels of the Lord. Receive Delmar's soul and present Delmar to God the Most High. To leave a message for the family and sign Delma's guestbook visit www.eleyfuneralhomes.com.