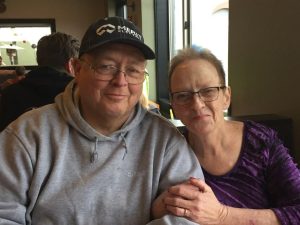 Denise Jean Miller, age 63, passed away Monday, February 21, 2022 at Borgess Medical Center.
She was born June 24, 1958 in Kalamazoo, the daughter of Dennis and Imogene (Salyer) Middaugh, and graduated from Three Rivers High School with the Class of 1976.
On August 9, 1975 Denise married Dave Miller at the Corey Church of the Nazarene.
A true people person and friendly to all, everyone knew Denise – whether she was working at Wells Saw, Three Rivers Hospital (administrative), Peebles, Dollar Tree, or McDonald's.
She was an active volunteer at Riverside Church, a member of its knitting group and a Bible College graduate.
Denise enjoyed cleaning, attending car shows, knitting, and Longaberger baskets. The family camped for many years and participated with the Coachmen Camping Club when the children were little.
Remaining to cherish her memory are her husband, Dave Miller; three sons, Casey Miller of Three Rivers, Cody (Elizabeth) Miller of Portland, OR and Kyle Miller of Three Rivers; one daughter, Kelsey Miller of Three Rivers; two grandchildren, Adisynn and Olyvia; many nieces, nephews and cousins.
She was preceded in death by her parents, two brothers and four sisters.
Visitation will be held Monday, February 28, 2022 from 11:00 a.m. to 1:00 p.m. at Riverside Church, 207 E. Michigan Ave., Three Rivers. A funeral service will follow at 1:00 p.m. at the church with Pastor Denny Kirouac officiating. She will be laid to rest at Riverside Cemetery.
Donations in Denise's memory may be directed to the Three Rivers Lions Club. Envelopes are available at Hohner Funeral Home in care of her arrangements.