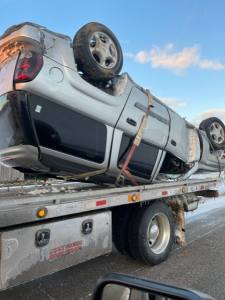 A Marcellus man was involved in a crash last weekend in Cass County's Volinia Township.
Sheriff Richard Behnke said deputies responded shortly after 4 p.m. Saturday to an area on Marcellus Road, east of Gards Prairie Road.
Investigators said 25-year-old Austin Hiser was driving east on Marcellus Road when he attempted to pass a car and lost control of his vehicle.
Hiser's vehicle left the roadway, rolled over and struck an electrical pole, breaking it away from the ground. Hiser was able to get his passengers to safely exit the vehicle.
Passengers were Karly Simpson, 23, of Marcellus, and 4-year-old Charlotte Hiser.
Simpson was transported to Bronson Hospital for evaluation, as she is 34 weeks pregnant.