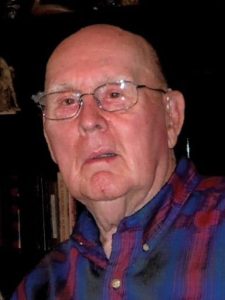 Gard Stephen Dolph, age 88, of Three Rivers, passed away Monday, January 31, 2022.
He was born May 13, 1933 in Chicago, the son of Stephen and Marguerite (Austin) Dolph, and graduated from Three Rivers High School.
Gard served his country faithfully in the Army during the Korean War, later becoming active in the American Legion Hice-Shutes Post #170 and its firing squad. He was a member of Veteran's 31st Infantry Division.
He was employed as a hydrostatic engineer at Armstrong for nearly three decades, and enjoyed giving tours of its manufacturing plant.
Gard married Louise Ada Hammond on June 8, 1958 in Three Rivers. The couple shared 62 years together before her passing on August 18, 2020.
He served on the Fabius Township Board for several years, and enjoyed performing with the Three Rivers Community Players and the Great American Patriots Chorus.
Remaining to cherish Gard's memory are sons, Blair (Marie) Dolph and Bruce Dolph; grandchildren, Caroline (Tracy) and Sean; great-grandchildren, Olivia, Caleb, Zachary and Madalynn.
He was preceded in death by his wife, and by his sister, Perianne.
Visitation will be Wednesday, February 9, 2022 at 1:00 p.m. at Hohner Funeral Home, 1004 Arnold St., Three Rivers. A memorial service will follow at 2:00 p.m. at the funeral home with Chaplain Dan Lane officiating.
Donations in Gard's memory may be directed to American Legion Hice-Shutes Post #170 or the Three Rivers Community Players. Envelopes are available at the funeral home.