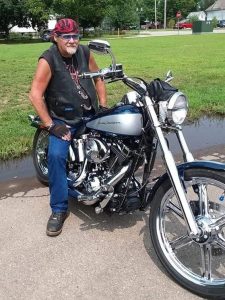 Gary Wayne Lull, 66, of Schoolcraft, passed away Saturday, February 5, 2022 at Bronson Hospital in Kalamazoo.
He was born December 12, 1955 in Three Rivers, the son of James Jr. and Bessie Mae (Bell) Lull.
Gary attended Schoolcraft High School and worked for many years at International Paper.
He loved his Harley Davidson, being with family, floating down river, collecting coins, tinkering and fixing things. He frequently spent time at the American Legion in Schoolcraft.
Remaining to cherish Gary's memory are his children, Candi Lynn Lull Schuster (Troy), Amy Louise Lull and Gary Wayne Lull Jr. (Jenn); their mother, Carol Rudicill Lull; seven grandchildren, Micheal, Hayli, Tyler, Kyra, Tatiana, Lilly and Jackson; one great-grandchild, Connar; brothers, Steve and Lewis; and many nieces, nephews and friends who loved him very much.
He was preceded in death by his mother, Bessie LaForge; father, James Lull Jr.; and sister, Nancy Jo Douglas.
A visitation will be held Sunday, February 20, 2022 from 11:00 a.m. to 1:00 p.m. at Hohner Funeral Home, 1004 Arnold St., Three Rivers.
Donations in Gary's memory may be directed to the charity of one's choice. Envelopes are available at the funeral home in care of his arrangements.