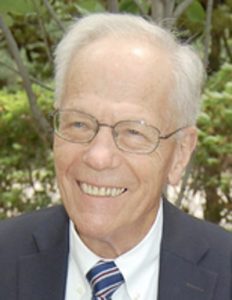 James Allan Goethals, age 85, died peacefully surrounded by family on Wednesday, January 26, 2022 in Dallas, Texas. Jim was born in Moline, Illinois on August 2, 1936 to Otto and Barbara (Blasig) Goethals. The third oldest of eight children, Jim was 11 when his family moved to Louisville, Kentucky for 2 years before finally settling in Sturgis Michigan. Jim graduated from the University of Notre Dame with both an Accounting degree (1958), and Law degree (1962).
In 1962, he married the love of his life, Sophia Roberts, from Wichita, Kansas. They moved to Chicago where Jim worked as a Tax Attorney and their 3 oldest sons, Michael, Robert and Joseph were born. In 1966, the family moved to Sturgis, where Jim worked alongside his father and a few years later became the President of the Sturgis Foundry Corporation until his retirement. In Sturgis, Jim and Sophie were blessed with 4 more children, Peter, Carrie, Sally and Thomas. Jim and Sophie enjoyed the adventure of raising a large family and sharing their love and faith in God with all. Sadly, Sophie died of cancer in 1981. With the abundance of God's grace and the amazing support from family and friends, the family survived the shock and continued to thrive. Jim was devoted to his 7 children, ranging in ages from 8-17 years, and was often spotted at the many sporting events his children participated in over the years (football, track, wrestling, soccer, swimming, tennis and golf). Many wonderful memories were made traveling in the family motorhome to Florida to visit family and one of Jim's favorite vacation spots – Walt Disney World. Summer vacations were spent in Woodland Park, Colorado and at the Cronley's cabin in northern Michigan.
Throughout his life, Jim was an avid Notre Dame fan. From painting the family motorhome blue & gold, to having 'ND' painted on the bottom of the family swimming pool, the love of Notre Dame was apparent! Many fun times were had at the ND football tailgates with the Goethals' motorhome and an array of food and drink to feed the crowds of friends and college students. Go Irish!
Jim truly loved to serve others. He devoted his life to the protection of the unborn, serving as President of the St. Joseph County Right to Life for over 40 years. He was a parishioner of Holy Angels Catholic Church for over 60 years, a Third Order Secular Franciscan, a member of the Knights of Columbus (4th degree), lifelong member of Rotary (59 years), President of the Sturgis Chamber of Commerce, President of Sturgis United Fund, President and trustee of the Sturgis Area Community Foundation and Board Chair of Sturgis Bank & Trust. Jim moved to Dallas, Texas in 2016 to be closer to his children & grandchildren and became active with the Dallas Serra Club, East Dallas Rotary Club, St. Rita's Men's Christian Leadership Group, St. Monica Knights of Columbus, Legion of Mary and The St. Monica Pro-Life Ministry. He attended daily Mass and enjoyed bringing Communion to the homebound in retirement homes throughout his life. Jim lived a humble, faith-filled life and his greatest joy was spending time with his 7 children, their spouses and his 21 grandchildren.
Jim is survived by his 7 children: Michael (Frances) Goethals, Robert (Patricia) Goethals, Joseph (Krista) Goethals, Peter (Heather) Goethals, Carrie (John) Frain, Sally (Darren) Smith, Thomas (Liliana) Goethals; his 21 grandchildren: Riley (Martina) and Andrew Goethals; Ryan and Alex Goethals; Jeremy, Corey and Jenna Goethals; Kelsie, Nick, Matt, Sophie and Lou Goethals; Patrick, Sarah and Michael Frain; Molly, Joseph, Aidan, Natalie and Carianne Smith; and Isabela Huerta; his sisters: Sr. Mary Serra Goethals, Kathleen Boyle, Mary Ann Goethals and Cate Goethals; and his 48 nieces and nephews.
He was preceded in death by his wife, Sophia Roberts Goethals; parents, Otto and Barbara Goethals; brothers, Paul Goethals and Jack Goethals; and sister, Sylvia Goethals Keeslar.
A Visitation and Rosary will be held from 5:00 to 8:00pm (Rosary at 7:30pm) on Friday, February 11, 2022 at the Hackman Family Funeral Homes-Rosenberg Chapel, 807 E. Chicago Rd, Sturgis, MI 49091. A Memorial Mass will be celebrated at 11:30 am on Saturday, February 12, 2022 at Holy Angels Catholic Church, 402 S. Nottawa, Sturgis, MI 49091, followed by Interment at Oak Lawn Cemetery. A reception will be held for all friends and family at 1:30pm at the Sturgis Woman's Club, 1001 Walker Street.
In lieu of flowers, please consider a donation to Sturgis Pregnancy Helpline, 1125 N. Nottawa Street, P.O. Box 8006, Sturgis, MI 49091 or SturgisPregnancyHelpline.com
Relatives and friends are encouraged to share memories and condolences at www.hackmanfamilyfuneralhomes.com.