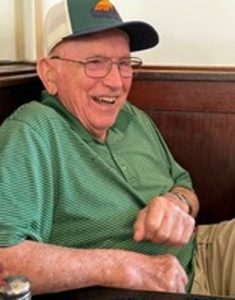 James M. Kelly, age 84, of Goshen, and formerly of Howe, IN died Thursday, February 24, 2022, at his home.
Jim was born on October 8, 1937 to Ralph A and Marguerite (Doll) Kelly in Sturgis. His family owned and operated Locust Lane Jersey Farms. Jim took over dairy distribution in 1964 and went on to be co-owner with his siblings.
Having a strong relationship with God, Jim was a longtime member of the First Presbyterian Church of Sturgis, where he served as a Deacon, an Elder, and served on the session where he was especially passionate about the youth programs and music.
After moving to Goshen, Jim joined the First Presbyterian Church where he quickly developed a strong connection with the people and the mission of the congregation there. He often volunteered for various service projects and delivered the New Year sermon in January.
Jim Kelly knew no strangers. He loved people and was a positive role model in his community. Jim was a member of the Howe Lions Club and later the Dunlap Lions Club and received numerous local and international awards. Additionally, he volunteered at Paws and Claws Book Store in Howe.
The stars and moon aligned on January 14, 1967 at the First Presbyterian Church of Sturgis, when he married Jean C. Wise.
Surviving is his wife, Jean Kelly of Goshen; his four children, Lauri Warble of Fort Wayne, Andrew T. Kelly of Marys, PA, James M. Kelly, II of Kalamazoo, and Sarah Lynn Kelly of Nashville, TN; three grandchildren, Emily Warble of Fort Wayne, Donald Warble of Texas, and Carrie Warble of South Carolina; seven great-grandchildren, Zac Warble, Cody Jenkins, and Jayden Jenkins all of Fort Wayne, Cassandra Reidinger, Savanna Reidinger, and Jordan Reidinger all of South Carolina, and Makayla Warble of Texas; a great-great-grandson, Zac Warble, Jr. of Fort Wayne; and a sister, Melissa Tobias of Portland, OR.
Preceding Jim in death were his parents, Ralph and Marguerite Kelly; a daughter, Elizabeth Woods; a sister, Eloise Geddes, and four brothers, Paul William, Richard L., John L., and Ralph A. Kelly.
A visitation and memorial service will take place at First Presbyterian Church of Goshen, 215 E Lincoln Ave., Goshen, IN on Friday, March 4th. Visitation will be held at the church from 1:00 to 3:00 pm. The memorial service will be immediately following at 3:00.  Rev. Ken Weaver will officiate the service.
Interment will take place privately at the columbarium at First Presbyterian Church in Sturgis at a later date.
Memorials may be made to the First Presbyterian Church, 1320 S Lakeview Ave, Sturgis, MI 49091 or on-line at http://www.sturgisfirst.org/.
Condolences may be left for the family at www.fruipmayfunerhome.com.