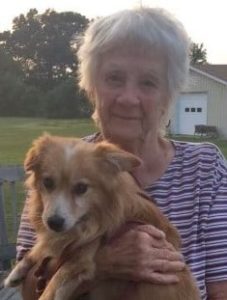 Joan Dee Fitch, age 83, of Three Rivers, passed away Wednesday, February 16, 2022 at Ascension Borgess Hospital, surrounded by her loving family.
She was born on August 21, 1938 in Three Rivers, the daughter of Harold and Iva (Beach) Spence, and attended Three Rivers High School.
On February 3, 1962 she married Lawrence W. Fitch in Three Rivers.
Along with her twin sister, Zoan, she worked at Newberry's Department Store, Continental Can, and as an inserter at the Three Rivers Commercial-News.
Remaining to cherish her memory are her husband, Larry Fitch; sons, Jeff (Lena) Fitch and Samuel H. Fitch; grandchildren, Autumn Fitch and Nicole Sheteron; step-grandchildren, Frannie Shaw, Loretta Cross, and Sun Min Lee; many great-grandchildren and great-great-grandchildren; sister, Zoan Gimbert; several nieces and nephews.
She was preceded in death by her parents, two brothers and three sisters.
In accordance with family wishes, cremation will be conducted, and a memorial service will be held at 12:00 noon on Saturday, February 26, 2022 at Leonidas Missionary Baptist Church, 31209 M-60, Leonidas, MI 49066 with Pastor Dave Stevens officiating.
Donations in Joan's memory may be directed to Colon Food Pantry or to St. Joseph County Animal Control. Envelopes are available at Hohner Funeral Home, 1004 Arnold St., Three Rivers, MI 49093 in care of her arrangements.